First Holy Communion for Girls & Boys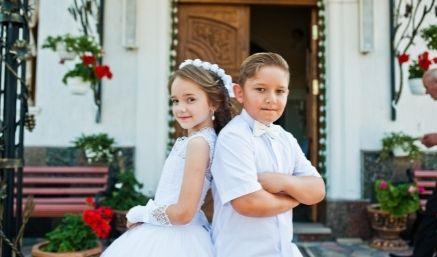 First Holy Communion sacrament is a blessed and special day for young girls and boys.  The First Communion blessed sacrament is a milestone that will be remembered for years to come. Your little prince and princess's communion ensemble is a vital part of their First Communion ceremonial day.  Keeping dress code guidelines in mind, we will help you make the best choice that is unique as well as a good fit for your child.   
High quality and affordable priced style dresses will fit any budget at www.sophiasstyle.com.  Our dresses are about special details from fine selected fabrics to beautiful bodice embellishments to the perfect hemline finish.  Enjoy shopping with your little one for cotton, dupioni silk, or satin dresses.   Just at the knee to floor length dresses are most appropriate for such an occasion.  A traditional, unique and modest styled dress for your little angel may take a bit of time to choose.  Browse our jeweled, pearl, beaded, ribbon accented dresses at Sophia's Style.  https://www.sophiasstyle.com/collections/first-communion-dresses
Don't forget her pretty veil!  Shoulder-lengths in white or ivory will coordinate with her stunning dress.  Delicate accents of lace with rhinestones or organza and satin flowers with pearls. 
https://www.sophiasstyle.com/collections/girls-veils
If no dress code is provided, below are simple rules to consider:  
1  Choose a simple, age-appropriate outfit  
2  Dress should be elegant in white or ivory  
3  No casual clothing or accessories 
4  Jacket, sweater or bolero is optional  
5  Opt for light-colored flats or dress shoes 
6  A headpiece or veil is optional  
7  Socks or tights are optional but should be white, ivory or nude  
8  Gloves are optional and should not be worn during the ceremony  
First Communion is holy and special for little boys.  Communion boys dress shirt sets and suits at Sophia's Style Boutique are offered in a variety of styles and sizes just for him.  He may feel his best in a full suit, a light colored sport coat or dark suit jacket.  Shop and save on your little boy's First Communion attire at Sophia's Style Boutique. https://www.sophiasstyle.com/collections/boys-suits