Boys First Communion Complete Guide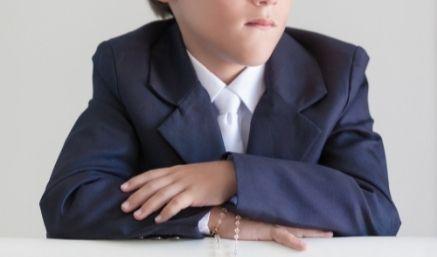 The First Communion is an intensely religious and important event in your child's life, and you want his big day to be special. It is the day when you and your family will be celebrating your child's encounter with Christ, and you want your child to look his best. Since the Communion is a holy occasion, it can get more intimidating preparing and arranging everything, unlike any regular family event. From choosing an ideal invitation card for family and friends to selecting a unique cake for the auspicious day. Above all, finding the best suit for your little one that should be appropriate for the holy event, and look good on him, is a priority.
Unlike the recent past when boys did not have much to choose from for their communion ceremony, today we have a lot of variety for boy first communion suits and gifts. It is your child's first communion party, and it need not be dry. With all other preparations for the religious ceremony, shopping for his attire should be an exciting event. If your son or grandson is nearing his First Communion, and you are yet to decide what first communion outfit for boys will work great for your little one, we have put up this guide for you to get all your questions answered as to how to plan for the First Communion for boys. And also, if you need some idea as to what an ideal First Communion gift for boys would be, we have got you covered.
Read this complete First Communion Guide for boys for everything you'll ever need to know for your child's big day.
WHAT IS FIRST COMMUNION AND WHY IT IS IMPORTANT?
For a Catholic, the Sacrament of Holy Communion is a sacred tradition. It is a way to celebrate a person receiving his Sacrament of the Eucharist. In the Catholic faith, children aged between 7 and 8 receive their first communion, as this is the age of reason, and this is when the child receives the body, blood, and soul, and blessings of Jesus Christ. The event is about celebrating the moment of a child's life when he is ready to accept the teachings of Christ. Communion represents Jesus's sacrifice for us, and we remember him by eating bread and wine, where bread represents his body and wine, his blood. On his special day, the child is blessed and showered with gifts. A ceremony among people with the Catholic faith, it is a milestone celebrated just like Baptism and celebrated among friends and family.
WHAT SHOULD BOYS WEAR ON THEIR FIRST COMMUNION?
Boys can wear their Sunday best on their First Communion, the attire they wear on Sunday mass. Since it is a religious ceremony, parents should be careful before dressing up their boys, keeping in mind that their children wear an age-appropriate suit that matches the occasion. Usually, light or dark shades are preferred, or a combination of both go well with a pair of formal shoes. No sneakers, please! Based on what your church specifies, dress your child accordingly. If your son already owns a dress that matches the requirement, you don't have to buy a new suit. But if he doesn't have suitable attire for the event, get him a new one.
HOW SHOULD A FIRST COMMUNION SUIT FOR BOYS LOOK?
While you know the First Communion attire has to be formal or decent enough for the religious event, you might be wondering what your child can wear. Boys can wear a full sleeve buttoned shirt with formal pants with an appropriate belt. A tie will add elegance to his entire look and is suitable. For shoes, they should wear dark dress shoes and dark socks. You may choose to buy him a jacket if you want, but it is not mandatory.
Boy's First Communion suits come in a wide variety of tuxedos, single or double-breasted. You may also find the entire suite with a set of a shirt, a vest, coat, tie, and pants. If you please, these items can be selected separately based on the color you prefer or what your local church has recommended. Usually, parents are overwhelmed with colors available for the suits, sometimes even more than 20. But choosing the right color for the event is a must. Dark shades such as black, navy, and grey are in trend and look appropriate. However, you can also choose lighter shades such as white if you want it all traditional.
1. Tuxedos
Most churches prefer the Boy First Communionsuits to be white. If you are planning to get a tuxedo for your son or grandson, choose a day tuxedo. Single-breasted white tuxedos are just the thing for such formal events. If any other dark color appeals to your son, go for it. You will find a variety of dark-colored tuxedos appropriate for his First Communion. Give your child his very first experience of a gentlemen's suiting with a tuxedo just for his size.
2. Single Breasted
Dark-colored single-breasted never gets out of fashion, and if it has a notch lapel, it's just perfect for First Communion of boys. If you have decided to go with white, there are plenty of options to choose from. You can either go with a slim fit one or a regular size. Shopping early for the event is always a good idea, as you can get the best designs and colors available.
3. Double Breasted
The double-breasted suit is one of the most popular suit types for the First Communion ceremony. Most parents prefer this suit type as it looks more traditional and elegant. Colors such as navy and black are most in demand. Even whites have a lot of designs.
4. Vests
Though vests are not necessary for a First Communion outfit for boys, yet you can get one for your son to complete the gentleman look. While choosing a vest, go for one that matches the color of the suit. A color contrast will give the attire a casual look, not appropriate for a religious event.
5. Ties
A tie completes the look of your little gentleman. Although, not all neckties go with the communion attire. Choose a white necktie if your son is wearing a white suit. If he is wearing a dark suit, choose a solid colored necktie, like red. Subtle colors with minimum and tiny prints and patterns also work great as communion apparel. To make a boy's First Communion memorable, some ties also have the date of the communion printed on them. Most parents prefer cotton ties, but these days silk printed ties are also in trend.
FIRST COMMUNION ACCESSORIES
Let your little one's special day start with some fashion statement. Tie clips, though not necessary but can be worn for the First Communion ceremony. A cross or a chalice is acceptable as tie clips to go with your son's attire.
Armbands though not a necessary part of the First Communion outfit for boys, though some church requires the little ones to sport an armband, usually with a chalice printed on it. Generally, an ideal armband would be a white satin damask with a golden chalice or a cross printed. Some armbands would also have "First Holy Communion" written in gold.
The rosary of a little boy's First Communion is usually of glass beads, and the centerpiece is often of religious symbols like a cross, a chalice, Virgin Mary, or St. Christopher. Most rosaries have black and white beads. If you want to go the traditional way, rosaries with wooden beads are an ideal choice.
First Communion pins are accessories for boys to add to their communion attire. The communion pins often come with a chalice and grapes, Ichthys fish lapel pins or brooch, or cross lapel pins. Communion pins can also hold a sash in place if your son is wearing one.
Although gloves are not an essential part of the First Communion attire, you can still get a pair for your son for the photos. It is difficult for the little ones to hold the cup or pick up the host with gloves on, and there is always a risk of spilling the wine, which you would never want to happen.
Head crowns are not a must-have to add your son's first communion outfit. But they can be added to the communion dress if you want. The head crowns are white with satin flowers on them.
FIRST COMMUNION OUTFIT DO'S
Your child's special day attire should make him look good. Make sure the suit you choose for him is suitable to wear for the big day. While you shop, there are few things you should keep in mind to avoid paying for the wrong suit
• Choose a white shirt that is full sleeved and has button closures.
• Dark dress pants that are either black or navy.
• The jacket or sports coat can be either dark or light.
• Choose a tie that is solid or has stripes or any subtle print.
 • Shoes should be dark with dark socks.
• A belt is preferred to complete the look.
• You can also choose a full light (white) or dark suit (navy and black)
• An entire grey suit will also look good. The outfit checklist can be modified, depending on what your local church prefers.
FIRST COMMUNION OUTFIT DON'Ts
Unlike any other regular family event, the First Communion is your child's first step to religious life. Because it is a special day for your son, be mindful of what he wears to the church on an auspicious day. Make sure you don't make these mistakes while choosing an outfit for your child- • Polo t-shirts or tops
• Sweat pants and half pants
• Jeans and sports pants
• Sports shoes, sandals, or boots
• Avoid cartoon characters or anything casual on the shirt
HOW TO CHOOSE THE PERFECT COMMUNION SUIT FOR BOYS?
First Communion clothes for boys need not be expensive. It should comply with the set rules by the church and fit your son perfectly. Choosing a well-fitted suit is as important as selecting the right kind of attire.
Here we share a few tips for you to keep in mind while you shop for the First Communion ceremony.
1. Sleeve Length
The sleeve length of the shirt should always be longer than the sleeve of the jacket. Make sure about an inch of the shirt's cuff is visible. If you are measuring using a shirt, the length should stop at the cuffs, and if measuring using a tape, measure it down to the wrist. These are small details not many parents will be attentive about, but it looks presentable when a small portion of the shirt's cuffs is visible. It is evident you are not shopping for an adult but a child, but since it is for a First Communion ceremony, do your bit to make your son look his best. If you already bought a suit for your son or grandson and it loose for him, see that you get it tailored before the main event. Avoid keeping the sleeve too short or too long.
2. Shoulder
The shoulders of the jacket should be the same size as the shoulder bone, joining the sleeves of the suit right where the arm meets the shoulder. The shoulders of the jacket should sit flat. A jacket's shoulder that is too high or dangling will never give a proper fit. Shoulders are quite hard to alter after purchase. Therefore, having the correct measurement of your son will help you get the best-fit suit for him. To get the measurement start measuring at the top sleeves and straight across the other shoulder.
3. Closure
It inclines the front or buttoning of the jacket. When choosing a jacket for your kid, you must see the closure. Once buttoned, it should not look too tight or too loose on your kid. The button should close and open without force. A well-fitting jacket intends to focus on the comfortability of your child. He will be in his suit throughout the event and should be able to sit, stand, and move freely without any discomfort. While sitting, the jacket should not have gaps revealing the shirt underneath.
4. Jacket Length
The length of the jacket is as important as any point to consider while shopping for your kid's jacket. It should not be too long or too short. The ideal length would fall past the waist and wrap the curve of your child's hips.
5. Jacket Collar
The jacket collar of the suit should rest against the shirt. There should be no gaps between the shirt and the jacket collar. If the collar is too tight, you should be able to see folds appearing beneath it. A loose collar is always easily visible and will give a messy look. These points are important to note while shopping for first communion clothes for boys.
6. Pant Waistline
Finding the correct waistline should not be an issue if you have the exact measurement of your child. To find the exact measurement refer to any of his best-fitting pants, and you will get an idea. Some trousers come with an elastic band fitted inside that will fit according to your son's waistline. If you are still not sure, a measuring tape will give you the exact size. Going for about 1/2 inches more than the exact measurement won't be an issue either. Besides being a formal day attire, it should also make him feel comfortable all day long. Too tight pants may cause discomfort and leave marks on the waist.
7. Pant Length
Just like the jacket, the pant should also be in alignment with the ankle. Too long pants will give it a baggy look, while too short will look inappropriate and casual for the occasion. Measuring from the waistline and down to the ankle is an ideal fit for a pant. Also, make sure the pants are not too tight around the hip area. A good fit will lie comfortably against the buttocks.
HOW TO MEASURE YOUR SON?
You can measure your son with a measuring tape. Don't pull the tape too tight while taking the measurement. Also, avoid keeping it loose to get the perfect measurement. In case you don't have a measuring tape, you can take his Sunday best suit to get his accurate measurement if it fits him very well. Finalize the measurement keeping in mind the comfort of your child. He is going to spend a good amount of time in that suit on his special day.
CHOOSING DRESS SHOES FOR FIRST COMMUNION
A good-looking and comfortable pair of formal shoes are the ideal match for a religious event like this. Black and brown colored shoes are mostly preferred to go with the first communion outfit of boys. But some churches may recommend a completely white suit with a white pair of shoes. Some parishes also approve of dark-colored shoes with a white outfit. There is a wide range of shoes out there, but of course, you cannot just choose anything and everything.
Oxford

Oxford shoes are most popular among parents shopping for their son's or grandson's communion attire. They are not only traditional and perfect for the occasion but also look good with a suit.

Loafers

These are just another trendy variety of shoes that has a modern approach with a traditional look. If your son finds it difficult to tie shoelaces on his own, the loafers are just the pair of shoes you might want to have. These are slip-on but never fail to complement formal attire.

Derby

These shoes are again a decent choice to complete the look for boy's First Communion. Just a modern version of the Oxford shoes, Derby shoes are the best type of shoes for your child if his feet sweat. Each of these shoes has its formal touch and will look good with any suit for boys. The only thing to keep in mind when shopping for shoes is the color, design, and comfort. The shoes should be simple and without any ornamentation or color contrast. They should be solid black, white, or brown.
HOW TO STORE A FIRST COMMUNION SUIT AFTER THE OCCASION?
Your child's First Communion is special, and so is his suit. To continue keeping his suit in a better condition, we are sharing a few tips- Avoid folding the blazer and pants. Hang them in proper hangers to avoid crease. Pack in a blazer cover with zipping to protect from dust and dirt. Place it away from sunlight. Follow the washing and dry cleaning instruction for the suit, depending on the type of fabric. Make sure you read the instructions well before washing them. Professional dry-cleaning is preferred to retain the freshness and look of the suit.
CHOOSING A BOY FIRST COMMUNION GIFTS
The First Communion is the Holy Communion of the little boy with Almighty. It is the day when he is willing to follow the teachings of Jesus and step into religious life. Gifts and gatherings are customary on this religious occasion of communion. But only gifts that align with the sacredness of this event are considered appropriate. Whether you want to gift your son on his special day or you are one of the guests ready to witness the Holy Communion, you might want to congratulate the child with a gift for him. We have listed below some helpful ideas for choosing boy first communion gifts.
1. Holy Bible or Catholic Faith Books
The First Communion is the day when the children encounter Jesus. What would be a better day than this to introduce them to the Bible? It can be a memento or a keepsake that he can pass on to his children. You can also gift a personalized Bible with the child's name on it. But if you want to give any other book that tells about the Catholic faith, go ahead. There are several books for children that tell about the teachings of Jesus with stories and colorful illustrations.
2. First Communion Lapel Pins
Communion lapel pins comes in different varieties and designs that have Chalice engraved in them. It is an ideal boy first communion gifts and can be wear with suits. You can also gift him a crucifix cross neckpiece. You can also get these gifts personalized according to your choice.
3. Rosaries
The holy rosary is symbolic of the prayer of the Holy Mother in heaven. It is a precious and sacred gift to give your son or any first communicant that he will preserve for a lifetime. Rosaries represent purity, and just like the Bible and the crucifix is one of the valuable keepsakes.
4. Photo Frames
These are perfect gifting items for any special occasion, and when it comes to the first communion, you cannot go wrong with it. Gift your First Communicant a photo frame where he can frame a special moment of his big day with Jesus. Whether you are a parent, grandparent, or guest at the ceremony, this gift will add much sweet memory to the event.
5. Keepsake Case or Box
If you feel the listed gifts will be given to the child by others, gift him a keepsake box or case where he can keep all his keepsakes and gifts of the Sacrament day. This keepsake box comes in different sizes and designs. Choose one that you feel will add to the sacredness of the holy occasion.
6. Statues of saints
Figurines or statues such as Jesus blessing a boy child on his First Communion are some gifts that are great bets for such events. These gifts are not only symbols of purity, and sacredness but will also explain to the child why such gifts are special. Prayer Journal A prayer journal is a complete guidebook for the child to enhance his learnings for his communion and use them in his life.
7. Music Box of Holy Songs
Though most people prefer it as a communion gift for girls, there is no hard and fast rule that such gifts cannot be given to your son or grandson on his special day. A music box can also be personalized with the child's name written on it and songs praising Jesus playing.
8. Inspirational Books
Young minds are perfect slates to imbibe thoughts of the great and get inspired. What would be a better day than the First Communion to inspire the mind of the child? Books that tell tales of Jesus and how he sacrificed for us are the perfect way to bring the child close to our Savior.
Planning for your son's First Communion can be challenging as you will have a lot of things to be covered. Shopping for the suit a bit early is always recommended to get the best in the market. Before you start shopping, make sure you ask your son what kind of clothes he wants to wear on his big day. But be mindful that you choose what is appropriate for the special ceremony.