Girls First Communion Dress : Complete Guide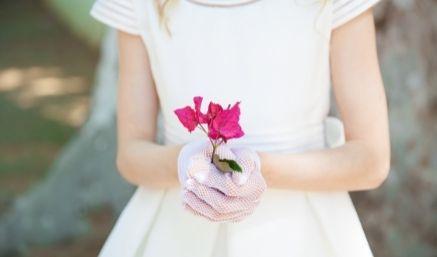 For Catholic children, the First Communion is a meaningful ceremony in their lives because they are receiving Jesus' blood and body for the first time. It is the day when the entire family gathers to celebrate the child's first encounter with God. It is a special day, and you want your daughter to look her best. Since communion is a holy event, it can get daunting adapting and organizing everything, unlike any regular family function. You have many arrangements to make - deciding on a venue for the party, finalizing the list of guests, decorations, cake, and of course, the girl first communion dress.
It is her first communion ceremony, and the dress has to be perfect, just like any other arrangement. From choosing the dress to buying it, the entire process should be fun. If your daughter or granddaughter is close to her First Communion, and you are yet to pick a dress for your girl, we have put all the ideas for an ideal communion dress and matching shoes to help you with your decision. Should you want to know what would make a perfect gift, we have added that too. 
Read this article to know how to choose girl first communion dresses without getting overwhelmed.
What is the First Communion Ceremony?
The First Communion is a Catholic celebration where a child gets the Sacrament of the Eucharist. The event celebrates a child's decision to receive the teachings of Christ. 
In Catholic families, children aged between 7 and 8 receive their First Communion. Since this, the child attains the age of reason, which is when the child receives the body, blood, and blessings of Jesus Christ. Communion is about reflecting on the sacrifices he made for us.
We remember him eating bread and wine, where bread is indicative of his body, and wine symbolizes his blood. It is why the First Communion is an important day in a child's life, and the child is blessed and showered with gifts and mementos.
What Should Girls Wear on Their First Communion?
You'll never run out of dress ideas for the Holy First Communion. That said, some dresses are too showy, some too grown up, and some look like bridal dresses. It is where you need to pay attention more while searching for a perfect first communion dress for your daughter. Understanding the ceremony's holiness and severity, the dress that you choose should be modest and conservative. 
On her first communion, a girl should wear an age-appropriate simple dress. Remember, you are choosing her outfit for a holy ceremony, and it needs to be decent enough. Since the first communion ceremony involves around 30-40 kids together receiving their first communion, the parish provides set guidelines for the attire. To maintain the decorum and avoid any errors on the children's clothing, you must accordingly shop for her dress. Choose a dress that has simple cuts and patterns.
Make sure the dress you choose is elegant and is light in colors. Traditionally, white is the official color for many churches. Some churches also approve of ivory and other light-colored dresses. The best thing is to check with your local Church before choosing a dress.
Should you decide to accessorize your daughter's look, keep it clean and simple. Too much adornment such as beads, frills, and other decorative will wipe the dress of its sobriety.
For shoes, keep them simple and elegant. High heels and too much jeweled designs should be avoided. 
Different churches have different rules set for their holy communion. Before proceeding with shopping, you should check with the church authorities so that your daughter is on the same page as the other kids on the day of the ceremony.
White Organza Tulle Dress
Tulle, commonly used for veils and gowns, makes fabulous first communion dresses. The softness and elegance of a white organza tulle dress will make your child look like an angel. Explore a wide range of tulle dresses with soft glitters on the bodice for some shimmer. You may choose a dress with some rhinestone work on the waistline with an organza bow on the waist. 
White Beaded Illusion Dress
With delicate and fine craftsmanship, beaded dresses are another brilliant piece of apparel for girls' first communion. For classic beauty, choose one that comes with a crinoline netting underneath that will give a puffed-up effect – more like a fairy tale princess. Your daughter will love it. Some dresses come with smocked features on the waistline, and the skirts have minimal beaded illusion for more of a glittery effect. Should you want to have a sparkly yet plain look, these dresses are perfect. You can choose one that comes with a long sleeve or sheer short sleeve. Either way, the dress is an instant hit. 
White Tiered Tulle Dress
Tulle never goes out of fashion. Team it up with a design that incorporates a tiered effect to the dress. Simple yet elegant, these dresses are adorned with minimal dazzle and sparkle and have the tired tulle do its job by making the dress look so unique and trendy at the same time. The modern touch of this girl first communion dress doesn't spoil the ceremony's serenity, and you can safely choose one for your daughter. 
Short-Sleeved Lace White Dress
A laced top and flocked tulle skirt white dress is another addition to the beautiful first communion dress list. These dresses are available with ruffle netting on the skirt to give it a richer look. Think of lace on the bodice, with lacework on the neckline and sleeve. Short laced sleeves add more elegance to the overall look of the dress. If your daughter wants it to be fuller, like a fairy queen, add a petticoat to bring the attire's fullness. To make the look more gorgeous, pick a dress with an adorned sash or brooch on the waistline. 
White Embroidered Dress with Bolero
If embroidered pieces are something you adore, there is a vast collection of embroidered white dresses. A beautifully embroidered bodice and trimmed lace skirt is a lovely piece to look at and wear. Your daughter will look like a princess. To add more glam to her look and still keep it minimal, go for a dress with satin ribbon at the waist. You can add a bolero if you want, however, she cannot wear it during the ceremony.
Embroidered White Quarter Sleeve Dress
Classic embroidered taffeta white dress is one beautiful piece to try out on her first communion. This dress has ruffle netting on the skirt and rhinestone and pearl beads all over. It comes with an embroidered quarter sleeve. Create some elegant spark with an adorned waist. You can also choose one with pearl beads or crystals for the sash on the waistline.
Sleeveless Satin First Communion Dress with Shawl
Gorgeous sleeveless girls first communion dress made of satin brings in the luxury and exquisite selection of attire for the ceremony. Satin dresses are soft and have that smooth gloss to them, making the dress gorgeous and ideal for the Holy Communion. These dresses are available in tea-length, A-line, or floor length. Some also come with an extending tail.
With a pretty embellishment of beads on the neckline, waist, and hem area, the dress is amazingly stunning. Discover wide varieties of satin dresses with a satin sash to be tied on the back of the dress. With added crinoline for more fullness if that's what your daughter prefers. The dress has a satin shawl with beaded work done to carry or wrap around for a sophisticated look.
Checklist for Choosing an Ideal First Communion Dress for Girls
Church Guidelines 
The rules for first communion dress differ from parish to parish. Some churches set firm rules for white dresses, long or short sleeves, a veil or flower wreath, white socks or stockings, and white shoes. Some churches accept gloves, while some deny the need for gloves as the child will be holding the Eucharist by hand, and gloves might hinder the grip, which might cause an accidental drop of the holy cup. Before shopping anything for the congregation, you might want to know the exact rules of the Church. You can either check with the Church authorities or visit their website for more information on the dress code for your daughter's first communion.
Alignment with Family Tradition
Communion is a tradition passed on to the members of a family by their parents or grandparents. You are about to pass it to your daughter, therefore you must align with the family tradition passed on to you by your parents. Chances are, there are customary rules to wear a particular fabric or a piece of accessory for the first communion. Know your family tradition and if you have anything that you need to pass on to your daughter, incorporate it. It means you might have a traditional family veil or a brooch that has been part of Holy First Communion; you can add it to your daughter's outfit.
Matching with Your Daughter's Expectation
First communion dress for girls should be modest and age-appropriate. However, you'll also have to consider your little girl's likings and expectations before deciding on a dress. Your daughter should be comfortable and happy wearing the dress. It is best practice to have your daughter with you and then decide on her communion dress together – keeping in mind her choice and the requirement of the Church.
Getting the Best Measurement 
When you get the correct measurement of your daughter, finding the best dress for her first communion becomes easy. To start with measuring your child, you'll need a measuring tape and have your kid dressed in tight-fitting clothes or undergarments.
Measure Bust
Take the tape and wrap it around the chest and take the measurement of the widest part. While measuring, keep your fingers behind the tape to get the correct size.
Measure Waist
Put the tape above the belly button and wrap it around the body. See that you don't pull the tape too tight or leave it too loose. If your child has a bit of baby fat accumulated on the tummy area, consider measuring the middle section's widest part with your fingers behind the tape. 
Measuring the Length
Depending on whether you want the dress to be floor length or tea length, take the tape and measure from the shoulder. Place the tape on the shoulder and let it fall where you want the hem to be. If you want the dress to be tea length, you'll want the dress length to be about mid-calf. If you want the dress to be floor length, measure from shoulder to heel.
Whether you want to shop from an e-store or a store in your neighborhood, or maybe you want it to get stitched, a correct measurement will give you a beautiful and well-fitted dress for your little one's first communion.
Taking Care of the Budget
The First Communion will only happen once in a little girl's life and needs to be remarkable. However, this doesn't mean you'll need to break the bank. Choosing an ideal girl first communion dress doesn't need to be expensive. You can get the luxury of a beautiful communion dress at a discounted price. You might also want to host a party, so keeping the budget in mind, pick a dress that looks decent and fulfills all the criteria required for the dress.
Choosing the Right First Communion Accessories
Once you've decided on the dress for the ceremony, you might want to accessorize your little girl. Some churches have rules for accessories little girls want to wear at their first communion. Besides, your local Church might have special requirements such as a veil. Below are some accessories to add to the dress, making it more beautiful and fun for the child. 
• Shawl or stole
• Bolero. You may replace it with a cardigan
• Shoes
• Tiara
• Purse
• Gloves (it has to be removed during the ceremony)
Choosing The Right Veil For The First Communion
The Holy Communion's veil worn as a female head covering is symbolic of humility to God, reverence, and modesty. Although veils are no longer considered a mandatory part of the communion, they are still considered tradition. If your Church requires a veil as part of the Communion dress or if your daughter wants to add a veil into her outfit, choose one that is best suited to her dress and is appropriate. 
White Beaded Floral Communion Veil
A flower-adorned beaded communion veil completes the look of a communion dress. This variant of the veil has a blossomed tiara attached to it adorned with rhinestone and pearls. It is stylish and looks traditional at the same time.
Organza Pearl Accent Veil
Discover beautiful veils of organza finished with a pearl accent and a satin bow on it. The organza work and the pearl and rhinestone attached flowers on the veil give it a unique look. It is an elegant pick to go with any first communion dress. You'll also find designs that have a comb attached to them, allowing the veil to stay in its place.
Simple Beaded Veil
It has pretty detailing of beadwork done entirely on the veil to give it a simple yet elegant look. If you've chosen a dress that has very little detailing work done, pick this veil to maintain the minimal look. This veil is perfect for a simple yet elegant look.
Headband Double Layered Veil
If rhinestones are your favorite thing, you'll love this headband double-layered veil. These veils are comfortable to wear and maintain. Like a headband, these veils come with rhinestone flower detailing as a tiara, and the veil will be attached. This variant of the veil brings in a lot of volume should. If you chose a voluminous or fuller dress for your daughter, this veil is a to-go thing.
White Tiara Veil
Tiaras are a little girl's favorite, and this veil will surely impress your daughter. Delicate craftsmanship of rhinestone embellishment on the veil with 3D flowers attached to it makes the headpiece look elegant and beautiful. These tiara veils also have a satin ribbon bow attached to the back.
Rose Embellished Crown Flower Veil
These dusty pink rose crowns attached to the veil are beautiful and add an elegant touch to her overall look. The flower crown looks magnificent to a white tulle brings a feminine and sophisticated feel to the overall attire. You'll love the rose crown, and your little one will feel beautiful wearing this.
Veils are not mandatory anymore but if you choose one for your daughter, make sure you pick the same color as the dress. If you have selected a white dress, go with a white veil and not ivory or any other color. Be careful with the adornment – a simple and plain veil should go with a plain and simple dress to make the outfit look perfect and avoid looking odd.
First Communion Do's
• A light-colored dress, preferable a white dress or ivory. The dress should be simple with easy cuts and designs, below the knee or calf length.
• White or ivory-colored ankle socks or tights. However, these are entirely optional.
• A veil, if you please. Or any headpiece such as a tiara, flower wreath, or headband. Although it is not mandatory if your little girl wants to wear one, get one for her.
• Add a sweater, bolero, or cardigan to the dress if the weather remains cold. 
• Gloves are not required. As gloves can distract the kids, they are prohibited by the parishes. You can still buy a pair for the after photoshoot. If you plan to get a pair, remove them during the ceremony.
• Light-colored flats and dress shoes for the ceremony.
Some parishes allow pants outfits for girls' first communion. If your daughter doesn't want to wear a dress, you can get her a pants outfit. Before that, check with your local church representative.
First Communion Don'ts
• Dark or bright colored dress with complicated cuts and heavy adornment.
• Deep neckline, spaghetti straps, tank tops or off-shoulders.
• Dark tights and long socks with detailed patterns.
• Avoid accessories such as veils with heavy jeweled work. Do not accessorize with expensive jewelry such as diamonds.
• Dark shoes or high heels.
• Avoid makeup.
The purpose of a white dress is to bring purity and blend into the holy occasion. While you should be careful about choosing a dress, be mindful not to pick a dress that has heavy dazzle. The intent is to maintain a simple and minimalistic look with elegant and simple dress shoes that match the entire outfit. Avoid anything that looks too flashy and sparkling. 
Matching Shoes for First Communion 
A beautiful first communion dress will look complete with a comfortable and elegant pair of dress shoes. While dark-colored and high-heeled shoes are to be avoided, white and flat shoes make perfect first communion accessory. White covered shoes are preferable.
Ivory Ballerina Ribbon Flats
Ivory variant flat shoes if you have chosen an ivory-colored dress for your child. Flat and comfortable, with satin lace attached to tie at the ankle – an elegant pair and looks excellent. You may also find a pair with a bow attached to the top of the shoes. This ballerina model is an ideal shoe for the first communion.
Rhinestone Strap White Dress Shoes
A white pair of dress shoes with a little heel of 1 inch. Rhinestone strap that blends elegance with sobriety. The glossy nature of the shoes makes them unique and goes well with a satin dress. It is also comfortable and soft on your little one's feet.
Floral Ballet Slip-On Shoes
These comfortable and super soft shoes are another great picks for first communion dress shoes. These adorable shoes come with a flower near the toe area and tiny heels to make them elegant and suitable for communion day. If you picked a dress with a flower on the waistline, this shoe will be a perfect match.
Front Bow White Shoe
A versatile yet elegant pair of shoes with a white bow at the toe of the shoe gives it a traditional look with a contemporary touch. Besides communion, it will go with any other dress. 
First Communion Gifts
First Communion Gifts are precious and something that your little girl will cherish. If you are a parent, grandparent, or a guest who will be attending the communion ceremony shortly, surely you'll want to gift something to the young lady on her special day. First Communion gifts are different from the normal gifts you give her on her birthday or any special occasion. The gift for this ceremony has to be special and unique – offer her something nice that can be used at the ceremony or even after. Here we have shared some gift ideas for her first communion.
Keepsake Box
Guests will shower your little girl with a lot of gifts and mementos on her special day. Why not gift her something where she can treasure all her mementos? A keepsake box is one of the ideal and appropriate gifts for a girl's first communion. Every time she will open the box, she'll remember you. Special communion boxes have beautiful motivational and inspirational messages written on them. You'll be happy you bought this for her.
Wall Cross
A crucifix or a wall cross is one beautiful gift to give your little girl on her First Communion. You'll find them in different materials such as wood, ceramic, or plastic. Some come with beautiful messages, while others come with a frame for the little girl's photo. She'll love this gift and lovingly hang it on the wall of her bedroom.
Rosary
A guide for prayer, a rosary brings a sense of holiness to the entire idea of gifting. You'll find them available in various beads such as black and white, wooden, gold, or other colors. Some come with a personalized name – an ideal first communion gift.
Inspirational Book
Your little girl has attained an age of reason now since she'll be getting her first communion. You can gift her an inspirational book that would help her later on. Things that we see or read when young inspire and empower us growing up; choose a book that will add value to her bookshelf.
Cross Jewelry
Cross jewelry such as a locket or a ring - while she can wear it close to her heart forever, cross jewelry is a beautiful gift for the first communion. You may also choose to gift her a pair of cross earrings if her ears are pierced. Or you can choose to give both, across pendant and cross earring to make it a pair.
The First Communion is an important part or event in your daughters' life, and you want to make it memorable. A perfect first communion dress is an essential thing for the entire ceremony. The dress should be comfortable, elegant, and appropriate for the ceremony. Make sure whichever dress, shoes, or veil you decide to pick should have mutual consent of you and your child. After all it is her special day; you want her to feel happy and comfortable.