Winter Clothes for Kids: Outfits to Beat the Cold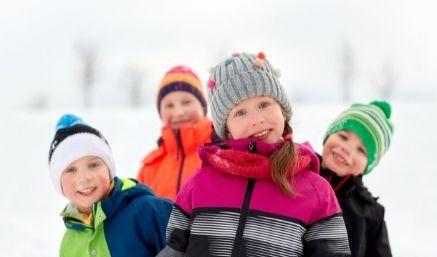 As the season turn and fall sets in, it's time to make space for winter wears for your kids. Winter is beautiful with snowfall, but your responsibility to keep your kid warm increases.
Layering your little one with warm clothes and keeping them warm throughout the winter without making them look shabby is an art. Do you have all the essentials needed during the winter for your kid?
In this article, we have put together everything you need to know about the different kids winter clothes available in the market and which one is the best for you. After reading this article, you will have no problem dressing your toddler the best way for the fall season. Whether you want to upgrade your kids' closet with new winter apparel or you want to get those extras to keep them warm, we got you covered!
Checklist of Essential Winter Clothes for Kids to Keep Them Warm Outside
Sweatshirts and Fleece Jackets – to be worn above the regular clothes and will keep the body warm. Covering the little one with an extra top is taking extra care of the chilling winds.
Shirts and Sweaters – warm shirts can always be worn as regular clothes under a sweatshirt or a jacket. You can also layer your child with a sweater before putting on a heavy-duty jacket.
Winter Coats: An extra coverage to protect children from the chill when there is a drop in the temperature. Without a winter coat, your checklist for kid's winter essentials is not complete.
Puffer Hooded Jacket: This is one of the winter clothes essential. Letting your kid go outside in the cold isn't a great idea without a good hooded jacket. Jackets will give their body that extra warmth which kids lose naturally from their body.
Warm Pants: This will provide additional warmth and protect your kids' legs from getting cold. It includes warm leggings, fleece pants, snow pants, or rain pants.
Waterproof rain boots: Water-resistance rubber rain boots to keep the water and chill away from the little feet.
Gloves and Mittens: Another essential item to keep the hands of your little one warm. Based on their age, you can choose a pair of gloves or mittens.
Hats and Beanies: Protects the little one's head from snow and ears from the chilling frost.
Scarves: You can't forget the neck area. Covering the neck area with a warm scarf will cover up all the neckline from where wind may pass through and make the body cold.
Winter Sweatshirts for Kids
Besides the fact that sweatshirts are nice, they are also warm. A must-have for the cold season, your kid should have one or two in the closet.
Sweatshirts can be worn just above any regular thin clothes, or if your place is cold, they can be worn above a body warmer too. It is very comfortable to wear one and involve in the day-to-day activities inside the house while the heater is on.
More of a workout regime for adults, sweatshirts are a cool statement for kids too. A quality sweatshirt will keep the warm the way a blanket would do. Made from fleece, the cloth has a lining inside to absorb moisture. The intent is to keep the kid's body warm for winter, and a sweatshirt pretty much does that.
Team it up with proper warm pants for your child and make them look winter-ready.
From a wide range of colors and prints, pick the comfortable one with a warm inner lining that matches up to your child's style statement.
Available in solid, color-blocked, quoted prints, or character-inspired prints, there's much for you to choose from.
Fleece Jacket
Lightweight and incredibly warm, fleece jackets are great for kids winter clothes. Not just fleece jackets look great; they feel warm and comfortable too. If your kid is active, you can pair his/her outfits with a fleece jacket. Fleece jackets are lightweight, enabling the child to move freely.
If you are looking for quality and comfort at a budget price, fleece jackets are cheap kids winter clothes worth every penny you pay. However, fleece fabrics are not water-resistant and therefore aren't ideal for rainy weather. 
That said, a quality fleece jacket will keep your child warm on the go and can be worn under long warm coats if you plan to get one for your little one.
With a zip-up style, fleece jackets come in both with and without a hood and elastic cuffs. Dress up your child with a fleece jacket as a mid-layer in winter for outdoor activities like skiing, snowboarding, etc.
Available in pretty colors and patterns for both little boys and little girls.
Winter Shirts and Sweaters for Kids
Winter shirts for kids are an easy and comfortable alternative for sweatshirts or worn as the bottom layer before an outing on additional layers. You'll find a lot of variety in the fabrics for these clothes, such as wool, wool & cotton mix, or cashmere. Wool becomes a more natural warm fabric, and cashmere is a cheap alternate. If you are looking for cheap winter clothes for kids, cashmere-made shirts are the ideal item to pick.
From pastels to darker shades and checkered, there are a lot of shades and patterns you'll find available. There are also pretty floral and cute animals or cartoon-inspired prints available for winter shirt fabrics. Since they are also available at a wide range of affordable prices, you can get many for your little one during the winter.
You can pair up the winter shirt with a pair of jeans and layer it up with a sweater, fleece jacket, or a padded jacket according to the cold.
Comfortable Winter Sweaters for Kids
Kids' sweaters come in a beautiful range of colors and patterns that are soft to feel and comfortable to wear. Since your kid gets to wear a sweater only in the winters, why not choose one that is best in quality and stays good for years to come.
While selecting sweaters for your kids, the first thing that should and will pop up in your mind is the material used. There's nothing like a woolen sweater. If you can get your hands on a pure quality woolen sweater, don't let it go. It has that insulating level to keep your child warm and undoubtedly the best warm winter clothes for kids.
You might as well want to check cashmere sweaters as well. Although it is a kind of hair extracted from Cashmere goat, yet sweaters made out of it will provide the desired warmth on the go. A timeless material, cashmere sweaters are ideal for kids' winter outfits.
Little girls can wear them with jeans, warm leggings, or skirts. For your little girl, you can pick one that has a solid color of her choice, or you can also select one with multicolor. These days, there are some sweater dresses for girls that are not just chic but warm too.
Little boys can match them up with a pair of jeans and warm winter pants. Dark shades with a contrast of light shades are always in trend. Dress up your little man with a white and black or navy combination sweater or a checkered one. He will look so adorable. There are plenty of solids and patterns as well.
You can choose one with zipping from the neckline to the chest, and some come without zipper closure.
On the topic of sweaters, you cannot miss out on the cardigan collection for fall and winter. Cardigans have always been a decent side to the winter wardrobe. The good thing is, there is a vast selection of pretty cardigans that are comfy and are soft, with colors you'd love to shop for your kid. If you want to add some glam to your little girl's winter outfit, go for cardigans that have beaded adornments. Solids in pastels, dark shades, or patterns, are available and can be worn with jeans, warm leggings, skirts, and dresses.
If you want to add a cardigan to winter clothes for kids boys, you can safely continue with smart designs for your little guy. One difference that you'd notice in the cardigan designed for boys is that it has more oversized buttons than a girl's cardigan. Another thing to note is, the cardigan for boys will be a bit loose than that of girls. While the girl's cardigan will fit close to the skin, the boy's will hang a bit lose. Select adorable colors in dark or contrast of several colors together. Pairing them with jeans will look smart.
Winter Coats for Kids
No matter what clothes you layer your child with, a winter coat will seal in the warmth of the little one's body without letting the cold wind pass through. Find a winter coat with a warm fabric – such as wool, wool blends, or cotton. Besides the fact that wool is a natural fabric, it also has that gorgeous look to it.
Cotton can is also a good alternative and is comfortable to wear.
If you are looking for winter clothes for kids girls, winter coats are the best thing to shop for your daughter this fall. You can choose one that is made of cotton. To add more look to the overall outfit, find one that has a faux-fur collar. Available in a multitude of colors, solids look the best.
These days you'll also find winter coats with fur edge hood and elastic cuffs. They come with a button or Velcro closure and provide maximum warmth. Besides solids, you can also find them in cute floral prints or random prints.
For boys, solid and color-blocked winter coats look stylish.
Puffer Hooded Jackets for Kids
Puffer jackets serve as perfect winter clothes essentials if your area gets heavy snowfall. Like any other winter clothes, the purpose of a puffer jacket is to keep your child warm, only without the need to layer your kid with too many clothes. It is one advantage of picking one for your little one as kids don't like wearing anything that is too heavy and restricts their movement.
That said, picking a good puffer jacket will also confuse you – they are available in down and synthetic insulation. Let's break it down for you.
A down puffer jacket is incredibly warm and can go well without much under layers. It is soft to the skin and feel and is lightweight. These puffer jackets are filled with feathers which makes them insulated for your little one to stay warm all day long.
However, if you decide to clean the puffer jacket by washing it, it will lose its insulating quality to a great extent. When washed, the feathers get clumped, and even after drying, it won't have the same old effect as before. So if your kid is an active explorer and involves snow fights, puddle jumps, or the afternoons are relatively mild during winters, the down puffer jacket isn't an good choice.
The next variety of puffer jackets is synthetic puffer jackets. It provides good insulation, however, a bit less than down jackets. To maintain the same amount of warmth, you can layer your kid with warm garments beneath the jacket. Unlike the down puffer jacket, the synthetic jacket is easy to wash and dries quickly. The best thing is even after washing, and the insulation properties don't get affected.
If you are looking for ideal winter clothes for kids girls, consider getting a puffer jacket based on the area you live in and the requirement. Mostly seamed in horizontal style, these puffer jackets are amazing winter steals for both boys and girls.
Puffer jackets mostly come in hoods, sometimes detachable. Boys' puffer jackets are available in solids, multicolor, or color-blocked styles. It will go with any casual warm clothes like jeans and warm pants.
If you want to choose something stylish for your little princess, go ahead and explore a wide range of puffed jackets with an attached skirt. Most girl puffer jackets will have hoods with faux-fur edges that look quite pretty.
Kids' Warm Pants for Winters
While shopping for comfortable winter outfits, adding warm pants is so essential. You know it's cold, and you also know you can't stop your kid from getting cold unless you'll make the necessary arrangements. Kids winter pants materials are very much the same as that of winter jackets and are there for you in the form of warm leggings, fleece pants, snow pants, or rain pants.
Warm Leggings
Mostly worn by girls, warm leggings are comfortable winter wears. These are skin-tight and made of cotton-nylon blend or wool. Warm leggings are stretchable and come with an elastic waist. You can find them in a variety of colors ranging from solids to pretty prints and patterns.
Fleece Pants
These pants serve well during less windy and chilly days. Like the fleece jackets, these will keep your child's legs warm but not an ideal outfit for drizzles or snowfall. In case you are searching for cheap winter clothes for kids, fleece is an excellent alternative.
Snow Pants
More like insulated pants, they are suitable for wet conditions and snow walks. This variant's primary intent is to provide warmth and resist water and wind – it pretty much covers up everything needed for extreme winter. Filled with synthetic or insulating down, snow pants come with an elastic waist and are good options for toddlers and little boys, and girls.
Rain Pants
Just like the name suggests, rain pants are made up of coated nylon or waterproof breathable fabric that endures the rain and keeps your little one dry. If you plan to dress your child in fleece pants, make sure to layer it up with quality rain pants for maximum safety from wet conditions and chilly winds.
Snow and Winter Boots for Kids
To complete your entire list of winter essentials for your kid, having one or two good pairs of snow or winter boots is a safe choice. Search for a comfortable pair of snow boots if your kid likes outdoor activities and walks on snow a lot. Snow boots come in different styles and colors, such as rubber and synthetic outer body for maximum protection, quilted synthetic boots, or rubber boots. Whether you are shopping for a little girl or a little boy, you won't regret getting a nice pair of snow boots for your kid.
Winter boots are again very comfortable and keep the little feet warm. However, they are not ideal for snow walks or puddle jumps. Serves excellent general winter uses like going to everyday chores, cycling, playing outside. However, it should not be used as an alternative to snow boots because snow or slight drizzles will damage the boot material.
Investing in quality snow and winter boots for your child is a smart move to make this fall. For quality pair of winter boots, less is more. Instead of investing in several pairs, buy two that meet all your winter requirements.
Kids are hyperactive, and they get excited when they see snow or puddles. Rain boots are also important winter essentials. You can either get regular rubber boots or go for an insulated pair. It is available for both little girls, little boys, toddlers, and rubber boots in a wide array of colors, patterns, and prints.
Winter Gloves and Mittens for Kids
Children's retention of body warmth is less than that of adults, and the slightest exposure to harsh cold can make them fall sick. While you have planned out everything to keep the little one's body warm, you cannot miss out on the pair of winter gloves or mittens.
Although kids are not a fan of gloves, getting them an attractive pair will make the process of getting them to wear it becomes easy.
Find gloves with pretty and funny prints or cute patterns. You can also check out the knitted soft gloves for kids and toddlers that come in attractive colors and comfort.
A unique collection of mittens are extra for kids winter clothes. They come in a selection of pretty and cute patterns. Whether you are looking for simple solid mittens for bigger boys and girls or you want to pick a funny, animal-inspired mitten for your toddler, we have just the right collection. Entice your kid more with funny puppet mittens that look so real your kid would never refuse to wear a mitten again.
Kids' Hats and Beanies for Winter
Protecting your kids' heads during winter is as important as protecting their bodies and feet. Most kids disapprove of headgears for winter, which becomes more difficult with toddlers. While looking for warm winter clothes for kids, beanies or hats should be prioritized. After all, you don't want their heads to be wet with thick fog or drizzles.
You'll find a wide assortment of beanies and hats in several colors and designs. It depends on whether you want a woolen, nylon, or woolen blend beanie for your kid. However, make sure whatever you buy fits your kid well. You don't want the beanie to slide off from the head while they play around.
Should you want a hat with earflaps that will also keep your child's ear warm, there are plenty of exciting designs and styles to pick from.
There are knitted versions of beanies as well. They, too, are comfortable and soft. You can select from solid or vivid mixtures of colors. Add more fun and warmth to your child's winter hats by choosing a hat with a pom-pom attached to the top of the beanie. Your child will look so adorable wearing it! Beanies are usually not gender-specific, but parents like to choose specific beanies for their daughters and sons. However, you can also shop for unisex beanies if you want to.
Warm Scarfs for Kids
While you are almost done with the checklist of your winter clothes essentials, complete the look of your little one with a warm and attractive scarf. Though not all parents consider scarfs as a must-have for their kids' winter collection, most of us fail to understand that scarves provide a lot of neck insulation, preventing the chilling wind of the season from passing through the kids' coat.
Scarfs for little kids are available in different materials such as wool, woolen blend, or nylon. Depending on your needs and the weather of your region, you can select the kind of material that suits you best. From solids and multi-colored checkered to cute knitted patterns and animal-themed scarfs are available for you to choose from.
If you want to maintain a uniform look and have hats, scarves, and gloves of the same color for your kid, we also have a complete winter set ready. There are plenty of them, such as ladybug sets, rainbow patterns, animal-inspired patterns, etc.
What to Look for in Kids Outerwear
So far, we have discussed the different types of comfortable and warm winter outfits for kids, and you must have indeed made your list ready. However, before you head out, you need to keep in mind certain things that prevent you from making any mistakes while choosing your little angel's winter outfits.
1. Shop, Keeping Your Weather in Mind
Avoid making unnecessary purchases by shopping for winter wear depending on the kind of cold your area experiences. If your place experiences a lot of rain, pick the synthetic variants or waterproof materials of anything you buy – to keep your kid warm and dry. Puffed jackets and insulated winter wears are just the things for your kid if your area experiences a dry and cold climate.
2. Never Avoid Layers
No matter what variety of winter wear you choose, never depart from the layering technique. Ensure the outer layer that the jacket you select should be a size bigger than your child's actual size. Be mindful that you got to layer your kid with warm clothes, and a tight-fitting outer jacket will leave your little one feeling uncomfortable.
3. Pick the Best Fit for Inner Layers
The warm winter clothes for kids that you choose as an inner layering of your child should be a good fit. Keeping the clothes loose will let in chills, and you don't want that. Even be careful with the beanie's and hat's size. They shouldn't be too loose and too tight. Also, make correct size decisions for the winter and snow boots as well.
How to Dress Your Kids for Winter
There is no science involved about how to layer your kid for winter, but being a bit thoughtful would help. When your kid is involved in active things such as playing in the snow or staying outside for long, dress him or her up in multiple layers. For lighter activities, say just going outside the house to the lawn, it will require less layering.
The first layer should include light clothes such as thermals, tights, winter shirts, and leggings. Choose woolen or synthetic fiber for this.
For the second layer, dress your kid in fleece jackets or pants, sweaters, and blazers - go with an insulated one.
The third layer of winter clothes should be loose enough to accommodate the other layers. Long coats are best in this case.
With the cold season, it is obvious you'll receive snowfall and drizzles. Dressing your kid in proper warm clothes should also be evident for you as a parent. Shopping for kids winter clothes should not be daunting, and with these shared tips, winter will be fun.