Baby Girls First Birthday Dresses Complete Guide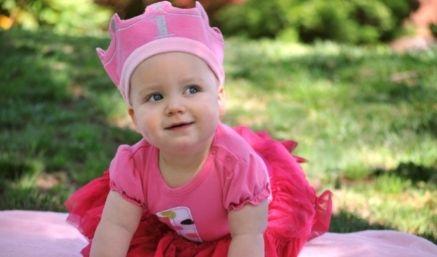 Your baby girl wants you to make her look nice on her first birthday – even if you're pretty sure she has little idea what's going on. You wouldn't want to make her feel less than the beautiful princess she is, would you? Definitely not! That means you must be willing to get her the best baby girl's first birthday dresses available.
We understand that your baby's first birthday is a milestone that's worth every celebration. After all, the journey of a thousand miles always begins with a single step. Your baby girl is taking that step, and she deserves to be pampered. However, with the buzz of celebrating the first stroke of the clock in your baby girl's age, it's so easy to get stuck.
Many times, picking the perfect outfit to mark the day's joy can be such a struggle. In fact, styling the whole day to suit your baby's personality and beauty can involve some tough brain work. But rest assured, we're always available at Sophia's Style to give you all the tips and styles that come in pretty handy.
In this comprehensive guide, we load you with all the details you need to dress your little infant to perfection. Here, you'll get every piece of information on the best dress types and stylish themes to bring the sparkle to your girl's first birthday.
Why get a special dress for baby girls' first birthday?
We know birthdays are one of the most stressful parties to plan. And that's exceptionally true when the celebrant is just twelve months old and has a bleak idea of the surprise you're planning. Yet, just like with every other endeavor, the purpose is what drives us to shoot for the best.
So, in choosing a comfortable and exquisite dress for your baby, you may get to the point where you ponder on its necessity. Here are six reasons why nothing less than a special and gorgeous dress should decorate your daughter's royal skin.
It gives you a chance to show how much you love your baby girl
Special dresses date farther back to the stone age. Do you remember that the coat of many colors was a gift to a beloved child? Well, you can recreate a love even better by having your baby wear a special dress on her first birthday. Your gift will serve as long-term proof that you cherish and value your beautiful angel, even after she outgrows the elegant dress.
You show gratitude for your baby's first year spent on earth
We don't have to wait until Thanksgiving to realize that each day is a gift. More so, every year spent on earth presents an opportunity to show gratitude for life. As such, getting your baby a special dress to celebrate her first milestone on earth is a worthy cost you'll love to bear.
Beautiful dresses help cement beautiful memories
With a beautiful dress and good pictures to match, you'll help your daughter create perfect memories to cherish as she grows. There'll be many more milestones for both of you to celebrate in the future. A beautiful dress could be the start of a dazzling memory map for the wonderful joys you'll share in the future.
It's easier to connect with your daughter's growth
The tiny but precious dress you clad your baby girl in on her first birthday will help you connect with her on many levels. First, you'll build a better bond than you've had over the years. On the side, she reminds you, as a woman, of how you started your journey to womanhood. The single act of getting her a beautiful dress can mark the start of more conscious efforts to nurture your daughter until she can replicate the same.
You tend to inspire other mothers
Most mothers need a simple push to give their daughters the best life has to offer. By getting your baby girl a classy dress for her first birthday, you're setting an amazing example for other mothers. Simply think of the thousands of girls who would look very beautiful on their first birthdays because of your initiative.
Well, it happens just once in a lifetime
Your baby will definitely have years and years ahead to celebrate more birthdays. However, her first-year birthday will come just this once in her lifetime. Just like senior prom, college graduation, her first job, and wedding, her first birthday will surely never happen again. So, make the one-time event memorable for her and yourself with special goodies, including a top-notch dress.
What should you look out for in baby girls first birthday dresses?
We live in a world that's overstuffed with as many choices as there are people. It is not surprising to see that there are lots of dresses trying to get your attention. But remember, it's your baby girl's first birthday, and you won't want to pick a dress you'll regret. So, let's help you out with the things to look out for when choosing your baby girl's first birthday dress.
You will need to consider many factors in getting the perfect first birthday dress for your baby girl. It's a long list, but we can assure you it would be deserving even for a second read.
Brand
Brands are quite prevalent these days. From cars to gadgets, and even down to cutlery, we recognize quality by the brands they share a connection to. In the same way, it's expected that popular and quality brand names influence your choice of the best first birthday dresses for your baby girls.
That being said, there are a bunch of brand names you'll be willing to check out for top-notch birthday dresses for your baby girl. Here are some of the most popular brands you can find on the biggest online stores.
Scarlett Gene
Scarlett Gene specializes in birthday dresses, nothing more. This focus on celebrating special days makes them a top choice for baby girls first birthday dresses. They have dresses ranging from gowns to onesies. What's more? They have outfits up to the fourth birthday, so you can always get back next year.
Younger Tree
Younger Tree is a household name for baby girl items. They don't just offer quality and unbeatable birthday dresses. They also go the extra mile to give your baby the best Christmas outfits. And when the little princess is ready to join the school train, they have the perfect dresses stocked up for her. Younger Tree products have a high rating and come at the most affordable prices.
Cilucu
Are you looking for the go-to brand for top quality sequin dress for girls? Cilucu is all you need and more. The brand brings together the best use of cotton and linen fabric to make classy dresses for infant girls. They've also got you covered for special birthday dress types you may desire.
Marlegard
No one comes close to the Marlegard three and four-piece baby girls' outfits. First-year birthday dresses at Marlegard comes with a sparkling royal dress, a pair of leggings, a dalmatian, and headband shoes. Your baby girl couldn't be more complete for her first birthday celebration.
Lito
Lito takes the number one spot for special occasion dresses. With perfectly suiting outfits for winter, summer, communion, and even Christmas, it's no surprise they boast top-tier dresses for your baby girl's first year birthday.
BijanKids
BijanKids is based in Los Angeles and has birthday clothes for every gender. Their cloth offerings for girls span formal wears and party gowns.
Cinderella Couture
Are you looking to style your children better than Cinderella? Well, there's no better clothing brand to achieve this aim than Cinderella Couture. They have colorful and elegant baby dresses and accessories to match your baby's big day.
Wenchoice
Wenchoice isn't just for ballet dancers. They also have an amazing collection of baby girl apparels you can readily choose from. From tutu dresses to casual beauties, they produce quality dresses you can always trust to outlive your baby's first birthday.
Sophias Style
This brand is the best definition of saving the best for the last. Sophias Style makes exclusive baby girl dresses for your baby. With high-quality designs and top-notch fabric texture, you can be sure of nothing but the best with exclusive and affordable dresses from Sophia Styles.
Size
Even after just one year on earth, different girls will have different body sizes. They would weigh differently and also have varying height levels. So, it's best to choose a cloth size that matches your baby's size. A dress that is too big or too small may spoil the fun of your baby girl's birthday celebration.
For most toddlers at this age, size 2 is usually the best dress to go for. Most girls will weigh about 21-25 pounds and have a height of 28.5 to 30 inches. While choosing a dress for your girl, it would help if you look out for these sizes in cloth labels or charts.
Color
A whole lot can go wrong with the wrong dress color. It may also be hard to match dress color with your event venue or even the birthday themes. Worse still, some dresses may fail to achieve the much-needed color harmony. So, dress color can be quite a big deal.
Regardless, you have a wide range of colors and hues at your fingertips. Here are some of the best color styles in vogue for baby girls first birthday dresses.
Monochromatic
You can opt for a monochromatic tone. That way, your baby can sport a single-colored dress or different shades of the same color. This choice is very simple to make and doesn't even require stress on your part. It's also classy and a viable choice if all you want is a minimalist birthday celebration.
Retro
Retro colors are used to signify vintage ideals. But more than ever, they are bouncing back into popularity – no thanks to social media image filters. So, if you want to make an 80s kid out of a Generation Alpha baby girl, retro colors are your next step. You may like to consider olive green, mint, harvest gold, and dusty rose cloth colors for your baby girl.
Pantone Colors
Pantone Colors are arguably the newest colors on the block. It's a new color scheme that contains the trendiest color tones of your favorite hues. For baby girls' first birthday, coral pink, Biscay green, saffron, and sunlight are some of the most-matching Pantone shades available.
Advanced Neutrals
If you want something light and simple, you could opt for neutral colors. But then, it's a special day, you wouldn't want a dull-looking cloth. That's why we advise advanced shades of white, gray, and light brown. The black option is dead on arrival, for obvious reasons.
Primary Colors
Sticking to the famous combinations won't be a bad idea either. You can go with the ever pure primary colors – red, yellow, or blue. You can also decide to step up with color mixtures that match the primary colors. Either way, let your baby girl's dress speak more volumes than the color shade it carries.
Contrasts
Color combinations only go bad when you're unaware of the basics. For a first-year birthday dress, combining matching colors adds more grace to the celebration. Whatever you do, be sure to match the colors with only contrasting shades.
Fabric
Fabrics aren't merely a statement of quality. They also contribute in no mean way to the comfort of any outfit. As a general rule, it's always advisable to choose comfort in your baby's clothes. The same rule applies to picking baby girls first birthday dresses. Fabrics determine the thickness of the clothing material.
Your choice of fabric for your baby's first birthday may depend on the weather. Cold weather calls for thicker dresses for your baby and vice versa. The sensitivity of your baby girl's skin can also go a long way in determining the dress choice for her. Babies with sensitive skins such as eczema-prone skins may have to opt for natural fabric types in place of synthetic fiber dresses.
Here are prominent fabric types you want to consider in choosing the first birthday dresses for your baby girl.
Cotton
Cotton baby clothes are the most common dresses on the market. The fabric remains a top choice for its softness and durability. Your baby cotton dresses can be sure to remain in good shape years after your baby girl's first birthday.
Linen
This fabric is produced from strong flax plant fibers. Linen is quite comfortable for wearing in hot conditions. Linen fabrics are breathable and also durable, like cotton. However, unlike cotton, linen baby dresses are less common and tend to be more expensive.
Broderie Anglaise
This fabric is popularly associated with English needlework. It's a white-colored lace that combines the right level of embroidery and cutwork to create comfortable gowns. Broderie Anglaise is best suited for ball gowns and christening dresses.
Fleece
Fleece is a wool-like material that is ideal for cold situations. So, if your baby girl's first birthday falls during winter, you might well be on your way to getting a fleece dress.
Bamboo
Bamboo is an eco-friendly fabric that closely resembles cotton. This top-rated fabric is very breathable and soft enough to pass for baby dresses. Bamboo dresses are relatively new, yet they offer immense quality when used to make baby girls dresses.
Budget
Every guide that doesn't address the clothing budget is less than incomplete. Your eventual choice will definitely depend on how much you can afford. Baby clothes aren't always expensive. Still, you'd have them come at different prices. So, while considering the perfect dress match for your baby girl, you may want to look into your purse to see how much cash you can splash on a party dress.
The cheapest 1st birthday dress for baby girls will largely circle around $10 to $20. At the higher end, with better designs and quality fabrics, baby girl dresses cost between $21 and $50. The highest-priced girl dresses start at roughly $51 and move upwards.
Regardless of the urge to spend more, you'd be doing yourself and your little princess a favor if you stick to your budget. Who knows, you can always divert excess money to accessories and birthday extras.
Dress Type
The dress type is typically the most important feature to look out for in any baby girl's birthday dress. If for nothing, the dress type should match the theme of your girl's birthday. Dresses come in a wide variety. However, here are few choices that make the rounds for girls' birthdays across the world.
Onesie
Onesies are bodysuits for toddlers. From the name, the dress is one piece of clothing that covers the entire body of your baby girl. Onesie for children come in a close-fitting dress with long sleeves and are usually famous for press studs that you can fasten at the baby's crotch.
Most onesies leave the baby's legs open. These dress types have different designs, and you'll always find one that befits your baby girl's one-year birthday celebration.
Ball Gown
If you wish to take your baby girl the Cinderella-style, ball gowns are the go-to dresses for you. Ball gowns are long, flowing dresses that are usually floor-length and fanciful. These dress types are best if you wish to have a formal theme for your baby girls 1st birthday dress.
Cottage Swing Dress
The cottage swing dress is known for its special flowing pattern and continuous expansive size from bust to beyond knee length. This dress comes in varying beautiful patterns and is usually sleeveless.
Vest and Short Sets
This dress's description goes without saying. It simply comprises a round neck shirt and knee-length shorts for your baby girl. They are minimalist design dresses and best if you want to keep things plain and simple.
Crochet Dress
Dresses labeled as crochets bring together a blend of creativity, color, and smooth fabric texture. These dresses are usually hand knitted with wool-like material to form long dresses with single shoulder straps. Properly made crochets can come off as very beautiful and fitting for baby girls first birthday dresses.
Tutu Dress
Tutu dresses originally were ballet costumes. Today, they are common wears for children across the world. These dresses are made up of a bodice attached to a loose garment of silk or tulle at the bottom.
Sequin Dress
On their own sequins are shiny beads used as decorations and clothing accessories. However, sequin dresses take this innovation a step further. Sequin dresses are shiny long gowns with stylish designs. Baby girls sequin dresses can be long sleeve or sleeveless. They also span different lengths – from knee length to floor level.
Yoke Dress
Yoke dresses are recognized by shaped patterns fitted across the shoulders and neck. Most yoke dresses also sport a fitting around the hips to support the rest of the garment's loose parts. These dress types have been in vogue for years, and they don't seem to be phasing out soon. You can readily get a stylish yoke dress for your baby girls first birthday.
Ethnic Dresses
Most dresses purchased as first birthday dresses for girls are based on Western culture. However, if you'll love to connect your baby girl to your roots, you may opt for ethnic dresses. From Indian to African, and even Aboriginal cultures, don't be shy to let your baby girl flaunt clothes from your ethnic group.
Denim Wears
More than ever, children's dresses are now drawing inspiration from adult fashion. One of many ways this trend is taking place is through denim clothes. Denim wears are typically jean materials that come in jackets and trousers. You may get denim set for your baby girls first birthday dress.
Extra Tips to make the best of your baby girl's first birthday dress
By now, you must have gotten the basics on how to fit pieces together. In fact, you may well be on your way to getting your baby the best dress for her first birthday. Well, we thought it a little nice to help put some icing on the cake. As you already know, birthday celebrations involve lots of details. And the dress is not the least of all.
However, you can take your baby's elegance to the next level with other party extras that can complement her royal outfit. Here are some extra tips to help you put your baby and her wonderful dress at the center of attraction. By the side, you'll also be drawing inspiration from the dress to make the most of the celebration.
Color-Coordinated Outfits
Have you thought about matching outfits with your baby girl? Well, if you haven't, here's the perfect opportunity to consider it. You and your significant other could wear the same color or design as your baby girl. On the flip side, you may have siblings or age-grade party attendees wear color-coordinated outfits. And if you prefer, birthday party guests may all wear matching outfits.
However, it's vital to note that you should only try out one coordinated outfit options. Having everyone at the party wear the same dress design or color will simply suck the vibe off your baby girl's birthday party. Besides, you'll want to maintain the special status of your baby girl's first birthday dress.
Edibles
What's a party without food? Or better put, what's a baby girl's first birthday party without food and cake? Children enjoy edibles, so much so that they can end up munching their clothes if there's none available. You surely want to avoid this with your baby girl, don't you? So, it's quite compulsory to have food available for your baby girl and peers who would celebrate with her.
By the side, you can have your baby's cake styled after her dress or the theme of her birthday celebration. That way, you'll be channeling inspiration from your baby girl's cloth into good use.
Footwears
Making the most of a first birthday baby girl dress also involves getting footwear that seamlessly matches your baby girl's dress. As with other birthday dress extras, countless footwears will flow with your baby's dress pattern.
Sometimes, baby girl clothes come in two, three, or four pieces with matching shoe sets. If that's the case with the dress you purchase, you may spare yourself a frantic search for new footwear. However, sometimes you'll not be lucky enough to get an accompanying shoe set with your baby's dress. In that case, you may need to look for a brand-new shoe that complements your baby's dress.
Jewelry
At age one, your baby girl is fit enough to look graceful in some jewelry. We advise you get simple clothing accessories like a wristwatch, a necklace, or hair accessories. Topping the list of hair accessories are dalmatians, tiaras, headbands, hair clips, and bows. These jewels make for a great princess view of your little girl.
Final Thoughts on First Birthday Dresses for Girls
Picking baby girls first birthday dresses shouldn't be rocket science. Thankfully, we've crunched all the details for you. First, look out for important factors that determine how fitting your baby girl's dress will be for the occasion. Afterward, spice it up with some accessories and pictures to keep memories alive. And in the end, you'll be grateful you took out time and money to celebrate your little princess' first birthday.