Best Scary Halloween Costumes for Kids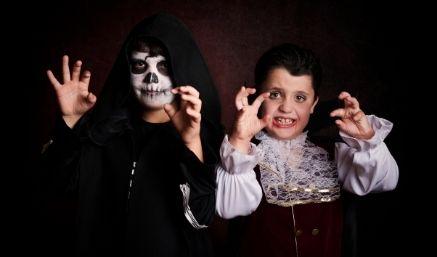 The excitement during Halloween is unmatched across the world. In the US, the tradition is celebrated by millions across the country, with people dressing up as their favorite characters from movies, cartoons and other popular entertainment figures. The scarier the costume, the more fun most people feel they are going to have. For kids, Halloween is beyond just dressing up and going door to door for candy. The kids embody the whole persona of the character they are adorning for the day and relish every moment of it. For example, a young six-year-old boy decked in awesome Darth Vader costume will most likely talk in a deep and hushed tone to depict the popular Star Wars character. Who can blame them? It is such an enjoyable time of the year.
In the wake of the excitement for Halloween, parents pull out all the stops to get really scary Halloween costumes for kids. Most times, parents get matching costumes with their kids or different characters from the same movie. It is usually warming to see Scary Halloween costumes for kids adopted by the adults as well. Although, Halloween this year might be looking a little bit different with the global pandemic. The Halloween can still be thrilling with scary kids Halloween costumes. From face paints, to family costumes, the holiday is truly memorable in so many ways. The holiday is incomplete without scary Halloween costumes for kids. Kids never want a holiday to play dress up, they want something truly frightening they can brag to their friends about.
October is the time to pull out all the stops for the kids. Halloween happens only once in year and many people want that to be special. No one wants their kid to repeat the same costumes and everyone is looking to out-do each other every year. Even if no one says it, they definitely want their kid to have the coolest and scariest outfit in the neighborhood. There are simple DIY ways of making cool scary kids Halloween costumes. Also, you can go online to shop for the best pieces that will surely terrify other kids. During the holiday, a lot of schools' host Halloween themed parties and events. This is where the weirdest costumes come alive. However, you can give your kids the most memorable Halloween this year by checking the most popular scary kids Halloween costumes with them.
For the characters being portrayed to come alive. This does not mean the kids turn into Zombies or other creatures. But the real-life adaptation of the characters people have feared the most hinges in how well you apply the makeup and other features. The makeup is where the magic happens as some will say. Applying other special effects as well is an additional plus but if you want to scare people then go all out. You can check DIY tutorials of making really scary Halloween costumes for kids here.
As many parents want to out-do each other, there is a lot of creativity involved in making really scary Halloween costumes for kids. Sometimes it may be a break from the ordinary that will scare people for this year. There is a natural transition from the bloody and gory costumes to the queer headless figures.
Here are some popular scary kids Halloween costumes that have become sensations.
BEST SCARY HALLOWEEN COSTUMES FOR KIDS
Zombies
While it may not be true that the troubled dead bodies rise up again as Zombies and attack during Halloween. But one of the most common and favorite really scary Halloween costumes for kids is Zombies. Parents enjoy painting the faces of their kids as well ripping their old jeans to have some effect. With many Zombie movies in the entertainment industry, many kids pay tribute to Zombies like in the Michael Jackson thriller video. Scary Halloween costumes for kids can be as creative as possible, parents and kids can dress up as any other character and still add the Zombie effect.  Even if you do not want the kids to go full-on Zombie look, the combination of a new look with some aspects of the Zombie costume or makeup.
 Scary kids Halloween costumes does not get than a good old-fashioned Zombie outfit. However, the craze for being Zombies will continue to thrive since majority of shows and movies include this narrative. Zombies are also good for scary Halloween costumes for girls kids and kids boys, more reason why parents and children enjoy it. Yu can see Zombie pirates, Zombie basketballers and other characters that are linked with Zombies.
Werewolf
There is practically no boy that has not wanted to dress up as a Werewolf during Halloween. Scary Halloween costumes for kids boys is never complete without the Werewolf. A lot of famous actors have mad ethe Werewolf a likable character to dress up as during the holiday. Wolverine, Van Helsing, and other characters have made scary kids Halloween costumes a delight. To the kids, the powers of the Werewolf seem to be absorbed once they wear their costumes, you might have probably heard some midnight howls. Most likely some kids are trying to exhibit those abilities. The Were wolf costumes are also easy to make at home but some of the supplies like the wolf ears can be bought at a local store.
Vampires
If there are any scary kids Halloween costumes that you are guaranteed to see every year, that outfit will be the Vampire. The blood sucking characters are always heavily depicted during the holidays with scary Halloween costumes kids boys as well as for girls kids. Some kids pretend to be the iconic Dracula, or characters from Vampire diaries and  Twilight. The entertainment industry has furnished in the thirst for vampires on the big screen. One in every three households will have a vampire in the house, the costumes are really easy to make and parents live for moments like these.
Really scary Halloween costumes for kids have different areas where parents can look at. But the vampire look is so iconic you can choose and add your spin to it. Creativity is one of the major factors in making really scary Halloween costumes for kids, something not only the kids will love but their friends will also enjoy. No one wants their kid to be made fun of because of a bad costume.
Super Villains
Everybody hates the bad guys in the movies but deep down there are features that are very peculiar to the Villains. The Joker in Batman and Justice league is one of the most iconic Villains in the history of entertainment. With his green hair, slick suit and distorted makeup, parents can make really scary costumes for kids with the joker and other super villains in mind. Thanos is also another example which kids love to dress up as, with a replica of the gauntlet and the infinity stones in one hand.
Scary Halloween costumes for girls kids and kids boys also entail Villains from horror movies such as Freddie vs Jason, Scream and other movies. Kids enjoy dressing up as characters that have caused fear in their movies. Scary kids Halloween costumes also have some element of some heroes in movies. Kids dress up like Hell boy who might not be categorized as a Villian.
The Mummy
Yet another all-time favorite really scary Halloween costume for kids. The mummy has been scaring people for many years and it is only right for it to feature in this list. For kids playing the Mummy goes beyond the toilet paper that is being wrapped around them. But replicating The Mummy gestures is what the kids also relish. The Mummy costumes for kids are one of the easiest scary Halloween costumes for kids to make during the holiday.
Grim Reaper
This scary Halloween costumes for kids has always been a feature during the holidays. As you go by the street, there would be someone dressed in a black overall with a skull for a face and a big stick with a blade on top. The grim reaper is one of many children's nightmare and if you are looking for really scary Halloween costumes for kids, you cannot go wrong with this one. There is a certain chill that fills people when they see the soul collector coming to knock on their front door, the excitement induced with fear makes people complement the kids on great costumes.
There is truly nothing sweeter than people loving your kids costumes after you worked hard making it all day. Although, the Grim Reaper costume is bit easy to make as all you need can be gotten from a store. However, if you would like to make a Grim Reaper scary Halloween costume for kids, that would be good as well.  
Frankenstein's Monster
Many kids love to dress up as this character with green skin and stitches all over his body. Another feature of this character is the bolt sticking out on each side of the monster. This costume is sold in stores, also you can make them costume yourself to shoe the kids you are as involved as they are.
Scarecrow
Remember those old western movies with the large fields in them? Most times, there is always a scarecrow located somewhere in the field that suddenly startles the characters in the movie. Scarecrows make really scary Halloween costumes for kids as it is a representation of a stick figure. This means you cannot see the hands and the feet of the kids wearing them. Scarecrow costumes can be made as well as bought from local stores that sell scary kids Halloween costumes.
Witch
One of the most popular scary Halloween costumes for girls kids. It has the black ensemble with the skirt to match. The witch costume is predominantly worn by the girls while wizard costumes are worn by the boys. The wizard and witch costumes are usually easy to make but where creativity comes in is in the application of the idea to the dress and makeup.
Headless Bride Costume
There are many ways to scare people of all ages during the holidays but the headless bride costume is way up there on that list. The costume shows a fully dressed bride with her head in her hands. Really scary Halloween costumes for kids does not get any better than this. It might be a bit difficult to make at home but parents can check store to the costume. So, the kids can go all about the street feeling like the most feared Villian in the whole city.
Skeleton
Scary Halloween costumes for kids is portrayed in young kids running around in different types of skeletons with candy in hand. Skeleton costumes always make an appearance even at adult themed parties but for the kids, it especially is a fan favorite. The creative your skeleton is, the scarier it is for other people.
A person with Many faces
A lot of people think scary Halloween costumes for kids have to be in form of blood, and gory details but a break from the ordinary ordinarily causes fear. Now imagine, a person a seven-year -od with five faces coming up to your front door asking for candy. Firstly, you might want to run but then again you remember this just scary kids Halloween costumes. However, you might not know which face to look at when conversing with the child. This is the point of the whole costume.
Ice Queen
This is specifically a scary Halloween costume for the girl kids, the ice queen can be done in the home. The crown and makeup define the whole persona and you can throw in some white contacts to polish the look.
Night King and White walker
Who can forget the Game of Thrones that stole the hearts of millions on TV? Kids have become fascinated by the different characters of the show. One really scary Halloween costume for kids based in the Game of Thrones franchise are the night king and the white walkers. The swagger about the Night King is portrayed in the makeup and the clothes as well.
Aliens
The debate on whether aliens exist or not has nothing to do with kids dressing up as creatures from another planet. With TV shows from the past and present ones, talking about the invasion of earth by Aliens. It has hard for the parents to not include Aliens as part of the scary Halloween costumes for kids each year.
The Nun
This costume is another example that you do not need blood to make a really scary Halloween costume for kids. The Nun was one of the moist frightening movies, there is no way people will not be scared seeing that costume with the memories from the movie. A cross necklace will complete the look with the right amount of makeup to depict a sinister look on the kid. It will be more terrifying with the child embodying such a role – creepy.
Maleficent
The franchise was a box office master class with Angelina Jolie putting out a masterclass. Her costume has become a reference to many scary Halloween costumes for girls kids in recent times. With the dress and the horns, the kids become the character and exhibit her traits.
Chucky
This might be a bit difficult for parents to pull of for their kids but as scary Halloween costumes go, Chucky gives people the creeps. If you can find a striped shirt with a blue overall and paint fake stitches on the kid then the look is complete. A life sized Chucky walked around the street will definitely be terrifying. If you have a boy and a girl in the family, they could go as Chucky and his bride.
How can something that is so feared be one of the most used scary Halloween costumes for kids? It is because people want a good scary night on Halloween. There is really nothing scarier than the appearance of the devil on the holidays. A lot of people mi it up by creating a tail as well as adding some features that show fire and hotness. The makeup is what brings this scary Halloween costumes for kids to life.
A ripped face
let the red makeup mix with black to create cuts and wounds around the face. Scary Halloween costumes for kids take different shapes and one of them is a ripped face. Who wants to look at a face that is half gone? Hence, the scary side of the Halloween costume.
A Skull Face
This might take a little while to apply as kids will scare almost all their friends with the appearance of their skull. This depends on the quality of the makeup as well as the costume that will go with it.
See Monster Child Costume
This scary Halloween has eyes all over its face and can be worn at parties, school events and for the holiday itself. This is one scary piece that gets people off their seats when kids pass by.
Bleeding Ghost Face Costume
One of the most feared killers in the 90's, this costume will definitely send chills down the spine of anyone that sees you. Really scary Halloween costumes for kids meet the ever-present killer of the old days.
Pennywise Inspired Costume
Imagine a clown slithering out of a sewer, now that is one scary thought. For kids looking to take their Halloween costumes to the next level, you can try the Pennywise costume based on the popular "It" by Stephen King.
The Shinning Twin
Movies like the The Shinning always gave people the chills, now relive the horror in scary Halloween costume for kids.
Killjoy Morphsuits
Nothing scarier than a killer clown in a one-piece suit. Really scary Halloween costume for kids have evolved over the years and now they come in suits that scream "fear" just like this piece.
Ghost Costumes
This is no Casper the friendly ghost kind of costume but  scary Halloween costumes for kids. The ghost costume comes in different designs and can be for both kids boys and girls kids. It is one of the most popular set of costumes during the holiday with kids pretending to be invisible except when it comes to collecting candy.
Headless Horseman
Just like the headless bride, this costume will guarantee a fee screams at first glance. The fright on people faces when they see kids walking with no head in sight. Now that is a scary Halloween costume for kids alright.
Annabelle Costume
Dolls have become predominant in horror movies as Halloween continues to evolve. The scary Halloween costumes for kids have taken plays from the epic doll horror movies of the decade. One of them that stands out is Annabelle. You are guaranteed the neighbors coming to tell you of how terrified their kid was of your daughter. A good icebreaker during festive period in a couple of months' time.  
Bask in the euphoria of mystical creatures and scary characters as scary Halloween costumes for kids are at your disposal this year.
TIPS FOR PICKING THE RIGHT SCARY HALLOWEEN COSTUME FOR KIDS
As much as you want your kid to scare people and have the ultimate fun during Halloween, it is important you protect them from any danger and discomfort.
Read the Packaging
Scary Halloween costume for kids come like normal packages hence read the instructions carefully. It is important to note every detail in case of any emergencies or issues. Also, the need to protect your child is imperative, check for high inflammable costumes as well. Look for flame resistant label on the costume. This however does not mean the costume will not burn if exposed to fire. It means it will burn at a slower rate.
Find the right fitting
Make sure you get the right fits for your child. No one like a really scary Halloween costume for kids that is oversized. If it is a mask, try to ensure it fits properly so it does not obscure the kid's vision. It can also affect breathing if the mask and the suit does not fit properly. We do not want a situation where your child feels trapped.
Know your child
For some kids, wearing a body suit might be very difficult as it leads to rashes. For other there may be more sever consequences than the rashes. All in all, know what works for your child. If it means forgoing the killjoy body suit and going for Vampire costume to prevent any health hazard, then that should be the case. The best remedy is not doing what can cause harm and injury all in the name of scaring people. There is plethora of costumes to choose from that are tailor made for kids with sensitive skin and health issues.
Be careful with the accessories
Imagine having the grim reaper and there is a real axe in the room. For a kid that could be a bit dangerous. Avoiding those kinds of accessories and opting for the more flexible and softer axe will be best. As much as the accessories complete the whole look, one has to be careful with what the child is holding. So, it does not cause harm to them and others around also.
Prepare for the worst
No one prays for anything bad to happen but in an emergency a person with a large overall might find it hard to move around. Hence, it is advisable to wear a suit underneath the scary costume and leave some areas a bit free as well. Choosing a scary costume for kids has to do with comfort first. It makes the day more enjoyable when the kids are free in their costumes.
MAKING THE HALLOWEEN ENJOYABLE FOR THE KIDS
Scary kids Halloween costumes without the excitement in the house is more or less a typical holiday. Kids do not want to feel alone during this time. They connect more parents that are as enthusiastic as they are about Halloween. This is why social media is blows up during this period. Celebrities battle each other for the best Halloween costumes with their families.
At the end of the day, it is a family tradition and holiday. It brings not only the people in the family together but the whole neighborhood. It shows that there is togetherness and sese of participation in the whole community. Scary Halloween costumes for kids brings the creative side of parents, so whether if it is making the costumes themselves or spending money on a costume. They all want their kids to look amazing during Halloween.
Every year comes with a different theme, scary Halloween costumes for kids become more updates as the year goes by. With several modifications to the designs and the suits to appeal to the people.
You can also try other scary Halloween costume for kids on our page. If you have other ideas about really scary Halloween costume for kids, tell us about it. You can leave your comments below.