Cute Twin Baby Clothes Ideas Every Mom Should Know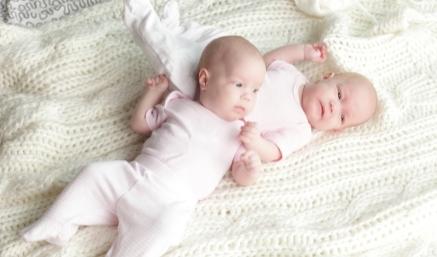 Twin babies are adorable and one in a million. It is so much fun to have them around. Dressing up twin babies is equally great, and with all those cute newborn twin rompers, twin baby onesies, or personalized twin baby outfits, you have so much to add to your twinzies wardrobe. As a mum or a dad like any other twin baby parents, you might want to dress up your babies in adorable outfits that click the same. Some parents also prefer making it a color contrast and come up with really creative twin baby clothes ideas when dressing up their little buddies. 
Whether you are a parent or have a twin in the family, watching them dressed in adorable outfits is fun. One advantage parents of singleton kids have they don't have to hunt for matching dresses in designs and colors (sometimes). This article reveals some of the best and cutest twin baby clothes boy and girl ideas you'll love. From twin baby girl outfits to baby boy twin outfits, we have clubbed all exciting ideas you can try with your twin babies. Read on to discover more. 
Adorable Twin Baby Girl Outfits
While you want your babies to be comfortable and happy in their outfits, you cannot go with some boring outfits, though. Add some extra scoop of cuteness with designs that you'll love. How about some onesies as starters and then more twin baby girl outfits? Here we share some lovely ideas.
Cute Onesies That are So Good
Onesies are the mum's favorite for her babies as they are easy to wear and look cute. So while you can give those simple solids or cartoonish onesies a break, why not try some with cute quotes instead. Discover lovely pairs of onesies that are soft to the skin and comes with quotes that will bring a smile to whoever reads them. You'll find these outfits in cute quotes such as "We are so cute, God made us two," "Double Trouble," "Drinking Babies," and like. 
Besides the quoted ones, some variants come with adorable graphics that celebrate twin buddies' fun. These twin baby girl outfits are available in stunning colors such as white, black and golden, blue, pink, peach, rose, lilac, aqua, and other lovely shades. You can also find them in long and short sleeves. To add some more glam to their look, add a cute pair of matching headbands. 
Colorful Rompers 
Rompers are one of the most popular baby outfits, and the tweenies can try a bit more design and colors. Twin baby girl rompers come in a wide range of designs, prints, and colors. So whether you are looking for short sleeve, long sleeve or sleeveless, you'll like what you see when looking for a pair of rompers for your twin baby girls. Explore exciting prints such as zebra, leopard, cherry blossom prints, sunflower prints, pineapple prints, or simply spring flowers. 
Twin baby girl rompers are available in plain cotton, lace, or crochet in ruffled, frilled, or decorated with pom-poms at the edges of the leg openings. While rompers are an excellent pick for summers, you'll also find rompers made of fleece or warm clothes for summers that are of full length and looks almost like jumpsuits. Some also come with a zippered finish and a hood to complete the casual rock look for any twin baby sisters. Finally, of course, denim rompers are attractive, too, if you choose to play cool. 
Pretty Dress for Twin Baby Girl
Pretty dresses are to-go clothing items for girls of any age, and when you have twin babies, there is so much you can do about the dress. Imagine a ruffled sleeveless dress with a matching diaper cover – they are just so adorable. A round or square neckline and a zippered back design will fit in perfectly. Gingham, plain cotton, floral printed, or one with applique decoration will be a brilliant choice to go with. How about a chambray eyelet dress?
Your fairies will look beautiful in that outfit with matching bloomers and sleeveless or strappy design. No matter what color you choose to go with, this chambray variant will steal your heart.
Other stunning styles and designs to choose from, such as a pair of lovely lace dresses with matching bloomers, are again something you should have in your twin babies' wardrobe. Spring colors such as coral, yellow, pale orange, rose, or light green is best for any occasion. You may also go with floral prints or darker solids as per your preference. Should you dress your twins for a party, go with glittered or darker dresses in shades such as maroon, royal blue, black, or golden. These dresses will make amazing twin baby girl clothes for your girls. 
Twin Girl Pajamas
You can never go wrong with cute pairs of pajamas. They are comfy, adorable, and blend in every time of the year. Some unique pairs of pajamas include a beautiful color contrast where you'll find the top of a different color than the pant. If you love pastels and adore animal prints, you'll surely love pajamas that are of cute animal prints such as leopard, tiger, bunny, or zebra. There are other forms or designs of it where unicorn prints are quite popular among parents.
Pajamas are available in short and long sleeve, and some of it also has zippered feature adds to the fashion. There are other adorable forms such as bunny printed, unicorn printed, cute strawberry prints. Floral or solids are the classic models that you can try or do some mix and match. They are also available in stunning patterns and colors. Add a beautiful piece of headgear with the pajamas for the twin goals.  
Pretty Tutus
There's no denying that tutus are adorable, and when you have two dollies wearing cute tutus, they are simply irresistible. Dress up your little twin darlings with color contrast tutus perfect for any special occasion. You can also pair the tutus with onesies or tops. Tutus also comes in tutu-styled dresses available in a variety of designs and colors. The unicorn ones are pretty popular among parents and make beautiful twin baby girl outfits to suit any special occasion. You can also pair the tutus with pretty long sleeve tops to make it a lovely pair. White tops usually look great with any color variety of tutus. Finally, you can complete the look with attractive head gears and shoes. 
Twin Baby Boy Outfits
If you are looking for cute twin baby boy outfits, you won't be disappointed with our attractive and latest clothing ideas. From onesie pant sets to rompers, twin baby boys have many options for fine dressing. So whether you are looking for some stunning casual outfits, laidback clothes, or party wears, you'll love these ideas for sure.
Onesie and Pant Set
Think of baby boy onesies with snap closure and pant set - an ideal outfit for any occasion. You can either choose to go with a short-sleeved or a long-sleeved onesie that comes with an elastic waist pant adding to your twin buddies' comfort. Available in a wide range of colors and prints, these onesies are something you'd want in your babies' closet. Choose appealing colors such as blue, light grey, white, black, pale green, and other lovely shades. You may also want to go with cute prints and colors that will look equally great.
Cozy Bodysuits
Bodysuits are easy to wear and are suitable outfits for babies. Dress your twin babies in adorable bodysuits and click lovely moments. Not necessarily you should dress them up in the same color. Be creative and do some fun with the clothing ideas. Go with themes rather – there are bodysuits set in funny articles that look great and are made just for twin babies, like ketchup and mustard theme—dress one of your twin babies in a red bodysuit and the other in yellow.
Look for something that lives up to the article and has quotes mentioned – ketchup and mustard. Won't that be a picture-perfect pair of bodysuits?
Tiny Cute Footies
These are again some cute twin baby boy clothes to keep your babies feeling comfortable and adorable. Footies come in several designs, colors, or patterns. You may choose one with snap closure for easy dressing up and changing of the clothes. Some footies have basic features, while some come with a cute 3D stuffed animal face right at the feet. Your twin babies will be comfortable the whole day, either with you or playing together in the crib. These outfits are available in long and short sleeves. 
T-shirts and Shorts
Take a shift to the casual side of dressing with a soft and comfortable fit T-shirt and shorts set. Adorable graphics and soft fabric are the superior features of these clothes. You may choose to dress up your twin baby boys in the same color or go with different. There are a massive collection of tees and shorts with amazing graphics that you'll love. From classic Mickey Mouse and his friends to shark baby, your kids will look stunning anyways. Experiment with colors too. If blue has always been there in your twin babies' wardrobe a lot, try colors such as grey, orange, red, black, white, or any colors of your choice.
Cotton Dungaree
It is yet another comfy clothes for babies. Not just are they stylish, they blend into any occasion. A suspender pair of pants with a matching tee is a look you can't beat! For dungarees, color contrast always works great. You can choose to go with a dark-colored dungaree with a light-colored tee or just reverse. Make sure you don't pick one that is just fit or too tight for your kids.
Dungarees are comfy wear and look and feel good with a loose fit. You can replace the tee with a bodysuit romper, too, with the snap closure, as it will help hold the diapers. This outfit can be one of your babies' favorite summer clothing sets. 
Add a little bow to it, and there your twin baby boys are ready for any special occasion. A pair of shorts with suspenders, a cute shirt, and a bow is just the thing for the party mood. In addition, the outfits have snap closure for easy diaper changes. These are available in various colors and designs and make ideal baby boy twin outfits for your kids. 
Twin Baby Clothes for Boys and Girls
If you are recently blessed with a twin baby boy and a girl, there are so many lovely styles and outfits you can try out for your babies. With unique designs, creative ideas, and colors that flaunt, your twin babies will look cuter and always click ready when you need to capture a moment.
Bodysuits and Dress Combo
Celebrate your twin babies with a pretty dress and a matching bodysuit for your baby boy. Stick to the color or theme and choose outfits that are individually unique but have the same vibe. A comfortable snap bottom closure bodysuit and the same colored dress are perfect twin baby clothes boy and girl. You can either choose to go sleeveless for both or with a sleeve. Choose one that is made of pure cotton for maximum comfort of your little ones. There are plenty of designs that come with catching phrases and funny quotes that complement and cherish twinhood. Quotes like "copy-paste," "Daddy's little princess and Mommy's little prince," and so on make the outfits even more adorable and striking. 
Brother & Sister Matching Tops and Shorts
If you are a fan of a casual outfit and want a shift from the traditional pants and dress theme, go with the cute matching tops and shorts for the adorable twin brother and sister. Matching the color, choose a T-shirt for your son and a top for your daughter and shorts for both. Stick with the same color pattern. You can either choose a darker shade for the pants and a lighter shade for the top of the reverse, which will also look good. Cotton fabric and elastic waist shorts make this outfit a must-try for your twin babies. 
Shirt Pant and Shirt Skirt Set
A perfect set of attire for any occasion – the shirt pant and shirt skirt combo for your twin babies are a must-have. Dress your baby boy in a shirt or tee with a pair of pants. And your baby girl dressed in a top and a skirt. You will find a vast collection of matching prints and colors that complement your kid's appearance and the great thing they fit in patterns. You can choose to match the prints of your baby boy's pants with that of the baby girl's skirt and matching top and shirt.
Cartoonish prints or solids of your favorite colors will also make great pair.
Suspender Outfits for Baby Twin Brother & Sister
Classic suspender outfits are something you cannot go wrong with. A suspender pant with a long-sleeve T-shirt for twin baby brother and a plaid suspender skirt with a sleeved top is one amazing baby clothes for twin boy and girl for any occasion. Ensure the colors are the same and the fabric or print of the pants and the skirt clicks. To make the tee and top stand out but still look the same, you can find a top with some lacework or embroidered work that will look pleasant and unique. 
Add a bow tie to your twin baby boy's outfit and attach a bow at the waistline of your twin baby girl outfit. You can also add a bow headband to her attire. With a bow added to each of the outfits, they are party-ready now!
The Superhero Themed Outfit
Why not flex a bit and dress your superhero and supergirl with something unique yet what you feel for them. For example, you are matching sleeved or short sleeve round-neck tees and matching pants. There are many attractive graphics, such as superman and superwomen or batman and superwomen. It's your creativity and preference as to who you want your tiny twin tots to be! There is a broad spectrum of colors to choose from, and you'll love the style for sure.
Pink & Blue Short Triangle Rompers
Without rompers, your collection of baby clothes is incomplete. Go with the traditional color sequence of pink and blue this time for your twin babies—a blue romper with bottom closure and a cute little T-shirt. Choose a blue romper and a white T-shirt to go with. For your twin baby girl, get a ruffled romper with a pretty top. Adding a bow tie and a bow headband to your twin babies' outfit will make your gentleman and lovely lady stand out.
These outfits are available in other exciting colors such as grey and white, black and white, golden and red, aqua and pink, and different shades. These are also perfect twin boy girl photoshoot outfits and will make great gifting items. 
Personalized Twin Baby Outfits
It isn't easy to differentiate between twin babies unless you are the mom or the dad. That's why there are so many fabulous personalized twin baby outfits that will steal your heart, from personalized name graphics to messages that are not just cute but best to identify biological twins. 
Cute T-shirts with Bloomers
Why dress up your twin babies in boring footies all day long? Cute personalized T-shirts with bloomers are a great way to start a fun-packed day. You can choose long or short-sleeved tops or T-shirts with matching bloomers that are adorable and looks fantastic with their name personalized, such as "Baby Niah and Baby Nolan," or "Ben and Cody," "Sarah and Willow," and so on. These are perfect baby clothes for twin boy and girl, or you can have them for twin baby boy clothes or baby twin sisters. 
With the personalized outfits, you may go with the same color or choose different colors for each baby, which is fine.
Besides, personalized messages are also a great way to make your twin baby outfits stand out.
Jumpsuit and Tunics with Pants
A cute sleeveless jumpsuit for your little guy and a tunic-pants for your little princess is a laidback outfit for twin brother and sister. While these outfits cherish the twin brother and sister goals, these are pretty much something that will add glam to your babies' wardrobe. You may pick a solid colored jumpsuit with your twin baby boy's name and a tunic with your little fairies' name or go with pretty graphics and cartoons to add some fun to their outfits.
The jumpsuit can be a zippered variant with a matching cap to complete the look. For the tunic, choose the same print or color as that of the jumpsuit. The tunic comes with a pant that has elastic on the waist and the ankle. Find a sleeveless tunic for summers and a long sleeve that is perfect for winters. Choose from a massive range of colors such as blue, pale pink, yellow, light green, rose, white, grey, or any color that looks great on your babies. 
There are also baby clothes for twin boy and girl with the names of your twin baby boy and girl who have their name engraved on their backs. Complete the look with a matching headband, cap, and cute shoes.
Funny Twin Baby Outfits
Not yet over the fun and exciting twin baby clothes boy and girl? Hold on; we have some more great ideas for funny twin baby outfits that are not just adorable but funny to brighten up each day your double bundle of joy wears them. 
Funny Bottom Closure Onesies
Upgrade your twin babies' onesie collection with a fantastic range of funny bottom closure onesies. There is a diverse variant of onesies available in sleeveless, short sleeve, or long sleeve. Based on what looks more pretty on your babies and your choice of colors, you can choose pink, white, blue, yellow, red, orange, grey, green, or any other shades. These onesies come with funny quotes or words printed on them that make it even cuter.
Phrases such as "monkey see monkey do," "double trouble," "buy one get one free," "twice the love half the sleep," and the like. Should you have any funny quotes or messages, you can have them personalized for your twin babies. 
Crochet Baby Superman and Wonderwoman Outfits
No matter what, babies are always picture perfect and photo-ready. If you are looking for a photoshoot of your twin babies, crochet outfits are something you can try. They are not just adorable but funny too. Whether you want to dress up your twin baby boys, twin baby girls, or twin boy and girl, these crochet outfits and dresses will encourage you to get more of these. 
Dress your twin baby boys in crochet superman and batman outfits, batman and wonder woman outfits or wonder Woman and batgirl outfits. You can also add capes to complete the look and make them cuter for any photoshoot you are planning.
There are other crochet outfit varieties available that you can try for your twin babies. Some creative and attractive crochet designs include dressing your twin babies as sunflowers, starfish, mermaids, princess and prince, bunnies, and more.
Twin baby preemie outfit
If you run out of clothing ideas for your twin preemie baby, we have some fresh ideas you can use. These comfortable preemie twin baby outfits will complement your tweenie's look and keep them comfortable all day long. 
Comfortable Top and Shorts 
Your preemie twin babies deserve the best, so you must pick clothes that are comfortable and soft to your babies' skin. Tiny sleeveless vest-like tops are an ideal choice for your kids. These tops are made of pure cotton and come with attractive patterns and colors. You can see either team these up with matching shorts or just the diapers. Find tops with a bit of detailing such as lacework, applique, or maybe frills for your twin baby girls. These look fashionable and adorable at the same time. Available in various colors like pink, blue, white, rose, aqua, red, and orange and looks charming.
Polka Dot Buttoned Rompers
You can see buttoned polka dot rompers that are stylish and comfy, match every occasion, and perfect for any casual day out. Dress your preemie twin babies in striking polka dot rompers and tops. If you are the mother of twin baby girls, this pair of outfits are just the thing you'd want. You may choose frilled or ruffled tops to go with the rompers. Also, you can make a color contrast where you can dress up one baby girl in polka dot romper and the other one in plain solids like pink, white, yellow, or anything in pastels. If you like a bit of detail added, explore rompers that have lace work done on them.
Suspender Shorts with Cute Onesies
Make your preemie baby look draper with stylish suspender shorts and cute onesies that are cool and laidback. These suspender shorts can be of solid colors, cartoon prints, or stripes. Choose soft onesies with snap closure for the diapers, and you are good to go. These charming outfits are one of a kind and make adorable twin baby boy clothes you should have for your twin babies.
Twin babies are no less than miracles, and having them dressed well in creative and attractive clothes will create memorable moments that you can capture. Try out these fantastic twin baby clothes ideas and upgrade your twin baby's wardrobe collection.