10 Ideas for Little Girls Christmas dresses & Outfits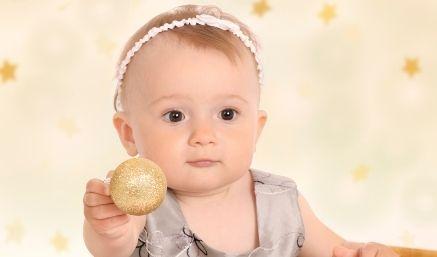 Christmas, the magical time of the year, is all about being happy, grateful, and celebrating with family and friends. It is also about getting dressed in our best, especially for moms who would dress their little ones in the cutest and Christmas ready outfits. If you are a mommy, getting your kids dressed in their best and getting their adorable pictures- nothing better than that. There are so many different ideas that can work out for little girl Christmas dresses. If you wonder how and what to dress up your little girl this Christmas, we have got you covered. This article is everything you'd want to know about the creativity of how to find your little girl Christmas outfits.
To complete your little princess' Christmas look, we have added some matching accessories ideas as well. Read on to discover!
Little Girl Red Christmas Dresses
Talk of the old Christmas outfits; they are not complete without a hint of- red, green, and white. Either you choose to dress your little girl entirely in any of these colors or a medley of all, she is sure to look fabulous.
Red gowns for Christmas never goes out of trend. You'll find a wide range of variety of pretty little girl Christmas dresses in red. A red gown will add the essence of the season and looks impressive for any occasion. Red lace gowns look pretty and are a classic outfit for X-mass. If you want more glitters and shimmers for your sunshine, glittery or tulle outfits are perfect. Another choice you'd like to pick is a red ruffled Christmas dress with a sash. These ideas can be used year after year and never worn out.
Stylish rhinestone detailing in Christmas dresses are also available and looks trendy. Should you want more of a themed dress in red, a red outfit with an embroidered Christmas tree is an unmatched charm. The detailing of the Christmas tree varies from gown to gown. Some will also have rhinestone tress, while some others will have it printed. Whichever style you choose to go with, themed clothes are something that never gets old. Long sleeves and sleeveless both look gorgeous in red.
Cute Little Girl Christmas Outfits Available in Green
Green as a color has its fervor. Adorable green outfits make the best cute little girl Christmas dresses. You'll find them in a vast collection of designs and styles to match your princess' personality. Green dresses with embroidery work or rhinestone work bring out that festive spirit of the season. These dresses not only look striking but also bring out the natural charm of your child. Long or knee length green Christmas dresses look great, and you'll find a wide variety of necklines. Some necklines will also have lace works for that sheer look that is ethnic and trendy at the same time.
White Pretty Little Girl Christmas Dresses
How can you skip on the color of purity and snow? White either worn in its entirety or with some mix and match will always look fair and graceful. A perfect attire for the occasion, white embroidered dresses are an all-time favorite cute little girl Christmas outfits. A bow sash would look great with a white dress for your little girl. Choose a dress with tulle detailing to give your daughter the fairytale vibe.
Since your daughter is younger and you want to keep it natural for her, white lace Christmas dresses with some pearl work will add that extra grace to her look. With the elegance of a lace dress, pearl or rhinestone detailing make the entire outfit look gorgeous.
A Blend of Red, Green, and White in Christmas Outfits for Little Girls
Dressing up in the traditional colors at Christmas has its fun and excitement. Think of the different experiments you can do with these colors and combine something great for your little one. The classic sequence of red and green are the best option for cute little girl Christmas dresses. Go for a cute short red skirt with a green bow making it a unique Christmas outfit. Or a glittery red dress with a big green bow would also look so lovely on her.
A blend of red and white is a perfect outfit idea for Christmas. Red and white combination dresses are a smart option with Christmas themes printed on them, such as reindeer, X-mass tree, and decorative. You can pep up her look with a furry red and white pom-pom hat that will go quite well. Red and white Christmas dresses are available in sequin, lace, velvet, embroidered, or rhinestone embellished. A complete red dress with a white self-sash is another addition to the collection of pretty little girl Christmas dresses. 
Give your creative side a push with green and white sheer sleeve sequin dresses for your little girl this Christmas. It is just another variant of the famous red and white sheer sequin dress, in case green is her favorite color.
Monochromes and blends look great for a holiday season. Why not try something that has it all? Red, green, and white Christmas tree applique dresses are adorable and will suit your little girl in her holiday mood. Our collection of girl's red, green, and white cute little girl Christmas dresses are just the perfect thing for Christmas.
Black Looks Good in Little Girl Christmas Outfits
If you have tried and tested all the traditional colors and want something profound and gorgeous for your little fairy, black is the color to go with. Black with a mix of ivory long sleeved Christmas dresses is just a new breed and has a traditional touch. Long sleeves are always in fashion, and when it's Christmas, you have all the reasons to go for it. Rosette designs in black sequin dresses are also impressive and add charm, and they make the best little girl Christmas dresses. Let your little princess step into the Christmas party with these gorgeous black dresses. All black sheer sleeve dresses are yet another must-have for you if you choose black to be the color this season.
Little Girl Elf Christmas Outfits
Talk of keeping your little girl warm this Christmas; short elf dresses are cute enough to serve the purpose. You can layer your little girl's outfits with these adorable elf costumes and keep them warm. If you are looking for something less formal and more fun, this is the best thing to grab. With a brilliant contrast of red and green, these elf costumes can team up with leg warmers of red and green stripes and an elf pom-pom hat- complete holiday mood.
Green and white elf costumes with fur cuffs and red bow sash are comfortable yet lovely for the Christmas celebration. These outfits are vibrant to look at and are cheap little girl Christmas dresses. With a bit of creativity and color combination, give your daughter the best Christmas look for a perfect X-mass family photo. These moments are precious, so make sure you capture a lot of them!
Santa Clause Attire Makes the Little Girl Christmas Outfits
You cannot think of Christmas without Santa in mind. What could be more joyous than dressing up your little girl in Santa Clause attire? Be the creative and fun mom and choose the best Santa dress for your cute little girl Christmas outfits. The memory of her dressed up as Santa will be cherished forever. Red upper jacket with a red lower with black waist buckles and white fur detailing on the ruffled sleeves- a complete Christmas outfit. Pair up this dress with a matching red and white pom-pom hat to add more fun. Soft high-ankle brown boots will look good with this entire look.
If you are looking for more style and a hint of Santa to it, go for full sleeve body-con dresses with Santa written on it. The wired hem of the tutu detailing of the dress will make it more charming. Available in red and white, these dresses are stylish and ideal for a Christmas party.
However, if you want to keep it all fashionable and casual, we have a variety of Christmas casual T-shirts with Santa prints. You can also explore and experiment with Santa texts on the T-shirts for a complete casual yet in holiday mood vibes. These T-shirts are comfortable and affordable for your active little girl, making them cheap little girl Christmas dresses.
Santa dresses are also the best thing to dress up your daughter to get those lovely and fun-filled photos for your Christmas albums. The intent is to use all of your creativity and bring fun and lots of love to the magical season.
Reindeer or Christmas themed dresses
Christmas themed dresses are a favorite to all kids and their mommies. You can find these reindeer inspired dresses in all traditional colors of Christmas – red, green, white, or a mixture of all. With reindeer embroidered, printed, or adorned with rhinestones, these cute little dresses are ideal for pretty little girl Christmas dresses. Long sleeves reindeer dresses look elegant and suitable for the occasion. Available in a vast selection of designs and styles, you can choose from hemmed sleeves and sleeveless attires, too, for your little doll.
If you are looking for something more traditional and natural to grace her look, go for a white dress with reindeer applique detailing on the front. Flared sleeves and a bit of red here and there on the white clothing will give you a look you were aiming for.
If you please, choose a casual T-shirt either in white or green with reindeer prints on them for a more casual look. These casual reindeer T-shirts are not only comfortable but affordable too, and if you are looking for cheap little girl Christmas dresses, these outfits are the best. Team it up with reindeer horns accessories that are just so fun and cute for the season.
Besides reindeer themed, there are various X-mass themes to opt for your little princesses, such as Christmas tree, tinsels, gingerbread man, candy cane T-shirts, or dresses. Candy cane dresses look great in white and red combinations with full sleeves for a complete X-mass celebration.
An honorable mention to Christmas themed floral dresses. These dresses are comfortable to wear and have all X-mass inspired themes clubbed into one dress. Unique like your little princess, their outfits are comfortable and have an ideal approach to the festive look.
Tutus are so Perfect Christmas Must-Haves
Tutus are anyways cute, and when you dress your daughter for Christmas in a tutu, it's always fabulous. Pretty red tutu or a combination of red and white tutus are the must-have outfits for the holidays. The flair and the soft detailing of the fabric make it so more desirable for a little princess. Let your little girl live up to her fairy tale dreams and wear a tutu so finely crafted just for her.
These Christmas themed tutus are long and short and available mostly in red. However, there is a wide range of colors and contrast for tutus these days, and you can choose anyone that you feel fit for your little sunshine. Pick the best tutu and make it one of your little girl Christmas outfits. 
For a more trendy and fashionable look to your little darling's tutu, choose one that is red with a waist or sash decorated in golden or any bright color. Red tutus are bright and perfect for the occasion, and adding a hint of gold will make it more stunning and the right pick for a gorgeous look. Matching bows look great with this attire.
Little Girl Christmas Dinner Party Dresses
Your Christmas dinner parties are all prepped up for your well-dressed and warm guests. With all the good vibes, good food, and joy, make your little girl presentable and ideally dressed up for a Christmas evening dinner party. X-mass party dresses are expected to look gorgeous, and just because your daughter is so young, we have a unique collection of Christmas party dress that is just the fit for her age and grace. Velvets are a luxury thing to wear. They not only look charming but soft on the body too. Red velvet Christmas attires with jeweled detailing are cute little girl Christmas outfits to own. Tulle detailing is a favorite because of the princesses' feelings it gives to the dress.
Laced Christmas party dresses are also a great choice to make with a bit of rhinestone or embroidery decoration. Talk of floral dresses; they are just so pretty and beautiful and will make your little darling shout with joy. If you want to pick a glittery outfit for your daughter, a red glittery floral lace dress with a glittery sash would be an excellent pick for the X-mass party dinner.
A full sleeve red velvet dress with a shiny bow is another fit for the Christmas dinner party. Keeping up the weather in mind, keep your little girl warm, a cardigan dress for the party. Choose a vibrant Christmas dress in solid colors and a light-colored or pastel cardigan to go with it. She will look so pretty on it.
White never goes out of fashion. So why not pick one white princess dress for your Christmas party? If you want to keep your daughter's look more traditional and simple, a white embellished tulle floral dress can go well for a Christmas evening party wear.  
If you are looking for little girl Christmas outfits, floral tapestry dresses are a unique combination of fashion and grace; choose one with a bow sash to complete her look for a warm and holy Christmas dinner party.
Black dresses are again the best pick for any parties and Christmas, and you cannot be more correct with this dress. Black dresses are exquisite and have a different flair to them. For ideal color contrast, you can choose a black and ivory floral dress for your little one. Available in sleeveless or short sleeve, you see what a difference it will make to the grace of your little darling.
Burgundy dresses are also equally gorgeous and look fantastic as Christmas party dresses for little girls. For more of an embellished and heavily adorned look, you can go with a burgundy embroidered dress. Tiered dresses for little girls are yet another favorite in the list of pretty little girl Christmas dresses. Available in tulle, sequin illusion neckline, beaded work, rhinestone tulle, or an off-shoulder floral dress, we have a huge collection for you to choose from. Besides keeping the formal flavor in mind, these dresses are unique and have everything it takes to be the best little girl Christmas dresses.
Comfy Christmas Outfits for Little Girls
Since you have made all your preparation to have your little girl dressed up to steal the show, it is also crucial that you make sure she is comfortable in her outfit. After all, we are dealing with babies her and a relaxed dress is the best dress for a little girl. That said, comfy need not be boring at all for the holidays. Two pieces look so comfortable. You can pick a tunic and a legging to go with the look. Tunics are open and have a comfortable feel and look. To pep it up for Christmas, go with colors like red, black, a blend of all, with a hint of gold. Golden color adds that shine and charm to any dress. White and red combination comfy tunics with matching leggings are not just trendy but appropriate, keeping in mind the cold weather.
If you want to pick a more casual, comfortable, and ideal little girl Christmas outfits, we have a wide range of long-sleeved top with matching comfortable pants. Available in a wide range of colors and designs to choose from, you are sure to find one that matches your taste and fits your little girl perfectly.
Knitted Christmas Dresses for Little Girls
Sweaters are just so Christmas perfect! Knitted attires will not only keep your bundle of joy warm during the festivity but also give that decent look if that's what you want it all for a Christmas dress for your princess.
A red and white Christmas dress that is warm and stunning- nothing better than a red woolen bodice with a white net flare to give a pretty and Christmas ready look to your little girl. This full sleeve dress will keep your little darling warm making it a smart, cute little X-mass outfit for her.
You can also go with a wholly knitted self-design Christmas dress that is either red or white or a combination of both. A red knitted dress with a white flair with a red self-sash is another unique and pretty little girl Christmas dresses. 
If you are looking for a more comfortable Christmas attire for your little princess, a two-piece knitted full sleeve tunic with a comfortable legging is also an ideal fit for a cold Christmas party.
These sweaters or knitwear are available in all the traditional colors of Christmas-red, green, and white. Or you can choose to go with the all-time favorite Christmas sweaters that incorporate all three colors for more X-mass-themed warm wear.
Long Sleeve Christmas Evening Dresses for Little Girls
Are you looking for some elegant long sleeve cheap little girl Christmas dresses for your princess? We have a collection of long-sleeved designer dresses. Add warmth and joy to the Christmas evening with long sleeve Christmas dresses. Plaid long sleeve dresses are the ideal thing to wear on Christmas when you want your little one to keep gorgeous and be warm at the same time. With the cute color combination of red and white, black and red, or you simply want to keep it monochrome, we have a huge collection of designs and styles to offer.
A black and ivory white full sleeve dress with rosette designs and a bow at the waist will look so pretty on your little doll and will have an excellent option for cute little girl Christmas dresses. You can also choose from white and black or red and black flocked stripe long sleeve dressed that looks exactly Christmas ready for your little girl.
Minute detailing on dresses makes them more unique and beautiful, which is why we have a complete collection of jacquard dresses that are just as gorgeous as your little girl. Blend of velvet with jacquard are so unique and X-mass perfect – a long-sleeved black and red jacquard Christmas evening dress with a bow on the waist is ready for a picture-perfect look.
A red velvet long sleeve dress with a sparkling bow is yet another pretty Christmas outfits. If your little one is a fashionista, a red sequin sheer sleeve dress is one you should pick this Christmas. Long sleeves are one category of dresses any little girl should have in their wardrobe, and if you are aiming to upgrade your daughter's closet, Christmas is the reason.
Special Little Girl Christmas Outfits for Church
With all the charming and pretty dresses that you've planned for the Christmas party, aren't you missing out on something? The 'going to the Church' outfit for your little doll! Celebrating Merry X-mas and having your cute baby dressed up in her best is a fun mood, but then having a different attire, especially for visiting the Church, is much needed as you want it to be formal and decent.
White dresses always bring that purity with them and make them so perfect for occasions like visiting the Church and make it special little girl Christmas outfits. Go for a long white gown or short dress with simple tulle work; you can choose to make it more decorative yet graceful with some pearl, lace, or embroidery work. To keep the dress more comfortable, match it up with a subtle color cardigan for a charming yet modest look for your little girl.
Matching Christmas Shoes for Little Girls
Once you've picked your Christmas outfit for your little daughter, you'll need a pair of matching shoes for her. While choosing a shoe for her, make sure they are pretty but comfortable enough to wear for a long time. Dress shoes look great and go well with Christmas dresses. You can go with the old Christmas style of bellies available in red, white, and golden.
White dress shoes will become ho with white and any lighter shades you've picked for your little girl. The Mary Jane styles are the best for the X-mass. You may choose her shoes to be plain white with a strap and a tiny bow attached, or you may go for a more glittery look with rhinestone embellishment – both will look graceful.
If your little princess is wearing a red dress this Christmas, you may pick a matching red sparkling pair of dress shoes for her. Choose one simple to have a decent look or a decorated red shoe for a more trendy look. Red shoes go well with red dresses, black, or anything with a combination of red in it.
Golden Mary Jane shoes are a unique combination of elegance and beauty and will match any formal attire. Brighten up her Christmas look with shoes that are not just delicate but stunning too. A bow added to it will make it more graceful.
If you want to keep it warm and trendy, choose a pair of warm boots for your little princess. Black boots or brown boots will match great with a Santa Clause dress you've chosen for her. You may also like boots that are Christmas themed inspired.
Christmas Accessories for Little Girls
Complete her Christmas look with matching cute little Christmas hair accessories like hairbands and headbands. Christmas themed hairbands like simply red, or a combination of red and green Santa hairband, Christmas tree hairband, or a reindeer hairband is so pretty and will look great on her.
Soft red and white Santa inspired pom-pom hats are always on trend and are cute Christmas accessories for little girls. Puff headbands in red or white will also look nice with cute little girl Christmas dresses.
Christmas is a magical time. With these perfect Christmas inspired little girl outfits, you can make your Christmas more beautiful; Dress up your little daughter with these cute little girl Christmas outfits and click a lot of pictures to capture those memorable moments.