Toddler Girl Easter Dresses & Outfits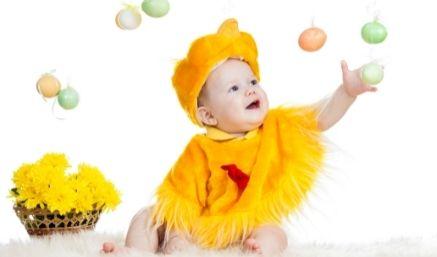 Christians worldwide celebrate Easter as the day when Jesus resurrected. A celebration of joy, when families gather and attend Church services, light candles, decorate their homes and dress their best. People also like to call it a pagan festival celebrating spring.
Easter got its name from the pre-Christian times when goddess Eostre was celebrated on the spring season's advent. No matter how the festival started, today we celebrate it worldwide as the day of resurrection, and for the little ones, it is the birthday of God.
Whether you plan to spend the Easter holiday with family or attend Church, one thing that we do every year is to get dressed up. However, finding the perfect fit for your toddler can be a daunting task because there are so many of them. But don't worry, we got the ideal toddler girl Easter dresses and lovely Easter outfit collections for your child. We have clubbed them all in this article, from traditional Easter bunny costumes to some creative and beautiful spring outfits. Read on!
Easter Dresses for Toddler Girls
Involve your toddler girl with the decoration of Easter wreaths at home. Dress her in a baby bunny applique dress. If you want to keep it all cute and comfy, choose an outfit with pants and a top. You can select the top to be sleeveless or with sleeves and leggings with it. From a variety of colors to choose from, pick the spring impression and Easter bloom – blue or pink. Break out from the conventional dressing shades this Easter and get your toddler girl a pair of blue bunny applique top and legging. If pink suits her best, choose pink. There is a whole spectrum of colors to choose from, including lavender, pastel pink, yellow, and other pretty shades.
Other Easter outfits for toddler girl could be a tassel trim seersucker dress. Find one with ruffled bloomers. These outfits are available with pink and blue flower combinations, and they look great.
Stripes never go out of fashion when thinking of Easter dresses for toddler girl. Round neck cute dresses with smocked waist and stripes make a great pick. Colors such as blue and lilac just bring in the occasion's feeling, or you may choose pastels or soft-colored dresses. Dress your toddler in one of these shades and assemble some Easter eggs near – and she's ready for a memorable Easter photoshoot.
If lacework is something you like, go for a lace bodice sleeveless dress. There is a broad array of lace adorned dresses – some come with trim floral hems. Choose pretty colors such as peach, beige, yellow, gray, pink, petal pink, fuchsia, orange, rose, dusty rose, and other attractive colors.
If you want to add more sparkle to your toddler girl's look, you can pick a fantastic fresh collection of satin dresses, embroidered, pearl sequin, sash pleated, and more.
A dazzled and adorned 3D flower sash­ looks cute on any toddler girl. These dresses are available in short sleeves or sleeveless.
If you are looking for cute toddler girl Easter dresses, tulle dresses are an excellent choice to make. Tulle Easter flower dresses will look so cute on your toddler girl. If you want to add more colors to the look, discover a broad category of lace tulle ruffle dresses, satin tulle variants, or pleated tulle dresses. Should you want to cover your little princesses' head pick a dress with a bonnet or pick one with the headband.
Make your little one look like a cute Easter egg, with a blend of colors that are just the thing you'll need. Go for some embroidered flower organza or rosette organza, or maybe a combination of bright colors with a soft shade – say white or blue or white and pink.
Keep it simple if you please, make your child comfortable and ready for play and some pretty looks with denim. Denim dresses are timeless. They are perfect for play and excellent for some special Easter photos. You can choose to go with a plain design or pick one with a tiered skirt from the waist – she'll look great anyways.
Beautiful Easter Outfits for Toddler Girl
Let your cutie enjoy the spring with a trendy Easter outfit for toddler girl. Cute bunny T-shirts or T-shirt dresses will glow-up the look. For a more comfortable feel, 2-pc bunny applique outfits are soothing to heighten Easter's spirit. Go for a relaxed yet fashionable look of blue and white gingham top and a pant with an elastic ankle and waist. You can also get pink and white gingham outfits.
This outfit is ideal for Easter morning casual time at home or while your toddler helps you hunt for eggs on Easter Sunday. Accessorize her look with an adorable basket that has a matching ribbon or cloth tied to the handle. A similar print headband is a beautiful thing to add to her overall Easter look.
An appealing set of gingham pink skirts and shirt would be perfect for Easter. A comfortable and stretchy fit, you'll find skirts with elastic waistbands and cotton shirts with cute little bunnies appliqued on them. You'll find unique styles with a headband. Some also come with an alligator clip. Before you choose one, check which suits your need so that your toddler girl finds it comfortable. This outfit will match with a Mary Jane flat. See if you can find one having the same print as the dress, or a glittery flat will look equally gorgeous.
Jazz up your toddler girl's look with casual T-shirts that have bunny graphic prints. Pick one that is white or any pastel colors.
Since Easter also brings in some spring flavor, why not add some spring hues to your little darling's outfits. You'll find an impeccable selection of swing tops with shouldered straps and tapered pant sets for toddlers available in beautiful colors. Spring colors such as peach, pink, yellow, orange, greens, beige, or anything in pastels are beautiful colors to dress in Easter.
Are jumpsuits something that you'd like to dress up your toddler for Easter? Because many fashionable and comfortable jumpsuits make wonderful toddler girls Easter outfits. Find beautiful floral prints in dark or light-colored shades such as multi-ditsy floral, pink, pale yellow, tangerine, navy, ivory, white, or multicolor. Pastel-colored jeans skirtalls with bunny printed tops are the new thing to experiment with this Easter.
Pretty Easter Floral Dresses for Your Toddler
Let your kiddo rock like a fairy queen with an exquisite collection of floral Easter dresses for toddler girls. Floral prints are fresh and bring on energy to the overall look of your child. Whether you are looking for a dress that goes well for family reunions or is ideal for a Church visit, floral dresses won't let you down.
Rose designs are just so cool and timeless. Pep up her Easter looks with a lace bodice and floral skirt or complete floral prints, both tiny and magnificent floral, to bring in the spirit of spring. A 3D flower sash or waistband is another addition to the look - a perfect Easter dress.
Glam up the look and add denim to the look. Think of the denim bodice and floral skirt - a unique but casual and ideal Easter Sunday. Sneakers will go with this look. Choose a color that goes with any color in the dress. Denim sneakers will also look equally cool to go with the floral and denim mix.
A sleeveless floral or summer dress is a versatile idea and so beautiful. Find one that has a voluminous skirt with body fitting bodice. A sash is again something to add to the charm. Glow up your toddler's look with a flower headband. This dress style is simple yet classy and can be worn in any other family gathering apart from Easter and makes a beautiful toddler girl Easter dress.
What about some lovely mix and match – flowers and gingham? Sure, you love floral, and indeed gingham looks so Easterly. Discover gingham and floral blend dresses in exciting colors such as coral, lilac, blue and more. There are pretty dresses with flowers like rose or tulips on the appliqued on the bodice and has the skirt area made of gingham. Pick one that is a cotton fabric for a summer feel and spring azure together. There are also many embroidered dresses that are not just unique but spring-ready too.
Multicolor floral prints with sash and bow are a great match. Discover sleeveless floral printed dresses that have a wide waistband with a bow for extra cuteness. You can also pick an embellished waistline such as pearl, rhinestone, or colored crystal. See what matches your taste, and you can choose accordingly. If you are looking for cheap toddler girl Easter dresses, these patterns work great.
Floral variants and rainbow patterns are also pretty. Make it more vibrant and chic, with dresses that have colored patterns and look floral but are colorful trims such as bunny of different colors printed on the dress. These look cute, unique, and yet Easter-ready. Team it up with a bright pair of Mary Jane shoes or bright colored bellies. Toddler boots will also look great with this toddler girl Easter dresses.
Easter Sibling Goal Dresses
Sibling goals are lit, and why should Easter be less fun for your toddler girl and her sibling? If you have two daughters, you won't be clueless about dressing them up for this Easter. Think of spring and the colors of Easter. Choose toddler girl Easter outfits with the patterns and colors that bring in the festive colors such as pale yellow, baby pink, sea blue, or sea green. Pick two dresses – one for your toddler girl and one for her sister. Don't forget to pair them up with matching head bows and ribbons. Dress them up and take memorable pictures of this beautiful day.
Cocktail dresses are also in trend. Inspired by the vintage look of springtime and Easter beauties, blue or pink gingham fabric with Easter bunnies on it will help you attain the sibling goals for your little precious. Find one with pockets if you want to keep the vintage style vibrating. Complete their look with white Mary Jane shoes plain or embellished.
If you have a toddler girl and a son, you don't need to worry about the sibling goal. We have unique ideas to make Easter outfits just as perfect as you wish. Have you ever thought a leotard can be a beautiful Easter outfit for your toddler girl? A white top and a leotard with a bow headband for your toddler girl and a matching T-shirt with suspender pants for your son.
Available in a broad spectrum of colors and striking designs, choose one that you feel your kids will be comfortable wearing. Some toddler girl Easter outfit also comes with customized features – you can have your kids name printed on them to make it more personalized and cute. Sibling goals aren't a myth, after all!
If casual is what you have decided as the family's dress code this time, pick some cute shorts for your toddler and her sibling. You can either choose to keep the color the same for both or a blend of different shades. For girls, pink for both or other pastels work amazingly, and for girl and boy siblings, a pink or a blue pair of shorts will seal in the cool summer look. Since it's Easter, pair up the shorts with T-shirts with bunnies on them – completing the look. Accessorize the look with Chambray sandals or shoes to go with the look.
For toddler girls who have more than one sibling, there are multiple things you as a parent can try out to make Easter memorable. Some mix and match always do the trick. You can choose the same print dresses for the girls, and for the little guy, get a similar print for his shorts or the shirt. The intent is to bring in Easter's joy and get some cute pictures of the siblings together before they outgrow these pretty Easter outfits.
Comfy Pajamas for Easter Sunday
Let your toddler girl get into the Easter celebration mood with comfortable pajamas. Undoubtedly, pajamas form one of the most laid-back and casual ideas for toddler girl Easter outfits. Long sleeve pajamas with elastic waistband pants are comfortable for a whole day of exciting and fun-filled Easter celebrations.
Pajamas come in fabulous selections – some that are summer-ready and others spring and Easter-filled. For more of a summer kind of Easter comfy outfit, pick a sleeveless and soft pastel color pair. The traditional outfit of Easter usually has gingham fabrics, especially in pink or blue. However, you can experiment with several subtle colored prints such as peach, pale yellow, pale orange, corals, and others.
Available in a range of fabrics such as cotton, cotton blend, tartan, or fleece. Based on the climate of your region, you can safely pick any of the materials available. That said, cotton always looks great when it comes to Easter pajamas for your toddler girl. Complete her cute look with a basket, a bunny, and some Easter egg – there you are, ready for some quick splendid Easter photos.
While making the Easter pajamas selection for your toddler girl, be mindful of the kind of fabric you choose. Your kid, just like you, will be busy the entire day, either hunting for eggs or looking cute. You don't want to tire her out or make her uncomfortable. Therefore go with a fabric that is soft to the skin and is breathable enough. To finish her complete look, add a bunny ear fur slip-on for her. Pale pink always looks extra cute.
Creative Baby Bunny Outfits
Bunnies are symbolic of Easter. You can't think of toddler girls Easter dresses without bringing a bunny rabbit into the picture. Be creative and find a dress that has a bunny resembling the entire dress. You'll find a couple of designer dresses that are cute bunny ears replacing the dress's strap. Either go for a dress or a combo of the bunny skirt and a white top to go with it. A full sleeve top will look more appropriate with a bunny-eared skirt. A pale pink skirt is a thing to shop for this Easter. Think how many adorable images you can capture with that dress.
Hooded rompers that resemble bunny is quite a popular idea among parents of toddlers. Year after year, this idea of Easter outfits for toddler girls and boys has been used, but the charm doesn't fade away. Team it up with some eggs in her basket, and indeed your toddler girl wouldn't want to take it off. Find one with a zipper facility so that you won't have to undress her when she needs a diaper change.
Explore a fabulous selection of tutus that are bunny-inspired. A baby pink or pale pink tutu with a white top with bunny printed or embroidered on it can be a unique piece to dress your toddler this Easter. Decorate the look with a golden bow for her hair and another bow to attach to her tutu. That's some fabulous pairing of outfits. Or you can choose to replace the bow on the head with a bunny-eared headband.
Crochet bunny outfits are again a simple yet attractive toddler girl Easter outfit to try out. You'll be amazed at the creativity of how the bunny ears are used as the strap of the dress, giving the crochet a beautiful finish, making it an Easter-ready dress. Usually, a crochet dress for Easter looks excellent in white. However, you are free to choose any shade that suits your kid and your preference.
For a more comfy feel, a bunny appliqued top with a three-quarter sleeve and matching legging is another cheap Easter dress for toddler girls to add to their wardrobe. Available in attractive colors such as lavender, pink, blue, coral, orange, and others.
No matter which style of bunny dresses you pick, your child will look fabulous.
Elegant Easter Outfits for Church
Easter dresses are supposed to be pretty and vibrant, bringing in the energy of the festival. While choosing an ideal Easter outfit for a Church visit should be decent and charming at the same time. White lace dresses with embroidered features look pretty. Adorned pearls and flowers applique bodice with a tulle skirt will look beautiful and ideal for the Church.
A pretty polka dot sleeveless dress with a unique soft lace bodice and a matching bow head band is another modest dress for Church for your toddler girl is wearing.
Glittery tulle dress with lace and pearl work is again cute toddler girl Easter dresses ideas for Church. Adorn the waistline with an embellished brooch, satin bow, a 3D flower, or a buckle belt on the waist. Keeping the Church's sobriety and Easter's occasion, we bring you a broad rainbow of colors available for these pretty dresses such as pink, white, pink and white, blue, blue and white, rose, blush, champagne, silver tulle dresses, or multicolor.
Sequin lace glitter dress rose glitter; tulle pearl lace dress is again a fresh adorned outfit for Easter.
However, if you feel some flowers and more bright colors would make a better option for an Easter Sunday Church visit, go ahead and get a dress with colorful floral patterns. Either you can choose one with ditsy floral prints or go all spring with more oversized flower prints such as sunflower or rose. Accessorize her look with a satin bow or any matching headband. Mary Jane shoes or flat sandals will look good with these outfits.
Cute Polka Dot Printed Dresses
As cute as they make look, polka dots are pretty little things you can use to upgrade your toddler girl's wardrobe. Polka dots are stylish without unnecessary being frilly and flashy. You'll find polka dots in two different variants – small and big. Either way, the dress is going to look fabulous.
For a simple and graceful look, polka dots of one color looks beautiful. You'll find them in so many colors such as pink, yellow, blue, black, fuchsia, and more. If you choose a big polka dot dress, colors such as yellow, white, yellow, purple-white, mint, royal blue, and much more are available.
Add some more glitz to the polka dot dress, with a jacquard finish, organza work glittered polka dot dress, glittered polka dot tulle dress. To keep it more comfortable, find one with a polka dot dress and a pair of elastic bloomers. Each of these styles can look unique and beautiful in its way with a beautiful bow sash on the waistline.
These dresses are available in sleeveless, short sleeves, or long sleeves. You can pick any style matching your weather and what your child finds comfortable. Undoubtedly these dresses make impressive selections, and if you are looking for some cheap Easter dresses for toddler girls, these definitely should be on your list of to shop Easter dresses.
Funny Easter Costumes for Toddler Girl
What could be more fun and cute than seeing your toddler dressed in an Easter costume? Make her a hatched chicken, an egg, a hen, a bunny, a carrot, or anything that you think your kid can be on Easter. Bunnies are all-time favorite costumes for parents when choosing an Easter costume for their toddler.
Matching Dress Shoes
A beautiful and comfortable pair of shoes is a must to complete the Easter look for your toddler girl. Explore a wide variety of Easter toddler Mary Jane dress shoes with any dress you choose for your kid. These shoes are comfy and come in a wide range of colors such as pale pink, black; silk rose, ivory, golden, silver, and more.
Buckled shoes will stay in place and look cute with any outfit. Add more spark to the overall look, with glittered embellished work, sparkled rhinestone, studded strap, crystal stonework, flower-adorned shoes, and much more.
If you chose polka dots for your toddler child, we also have a collection of polka dot Mary Jane shoes to match up with your kid's dress.
Easter Fun Accessories
Accessorizing your kid in Easter is one of the most fun things to do right after clicking great pictures. After you have decided un your kid's Easter dress, you'll probably need some accessories to add extra fun to the event's overall look and feel.
Bunny baskets are essential. Get one in for your child and fill it with some plastic Easter eggs or a stuffed bunny.
Stuffed bunnies are again one of the cutest things you'll ever see – the celebration is almost incomplete without it.
Bunny Ears are cute and a must-have for a toddler girl. Dress her up with one of the cutest Easter dresses, and then team it up with a bunny ear headband.
A bunny piñata is not a necessity, but then if you have all of your family and friends gathered in your home, sure, it is a good thing to have for a happy family time.
Easter Snuggly Blanket is an excellent thing to have to keep your toddler warm during Easter if your area experiences cold during this time of the year. Pick a color that matches her outfit, and you are sorted!
Easter celebrations are meant to be unique and full of fun. While still keeping the festival's intent lively, you can make it memorable with some best Easter dress for toddler girl. These Easter outfit dresses are sure to impress you, and your daughter will love to wear them. Make this Easter special by getting some beautiful photos of your toddler girl dressed up for Easter.