Best Girls Party Dresses for All Age Groups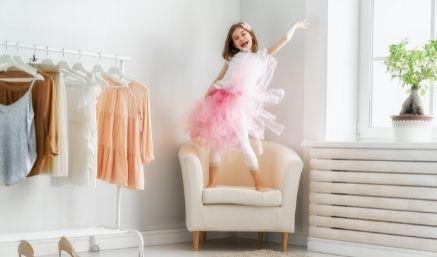 Girls like to party no matter their age. Like a woman, a little girl also likes getting ready for a party, looking her best. It is a joy to watch baby girls, and little girls dressed up like dolls at parties. While parents might spend hours selecting the best party dresses for girls, they also should be keep in mind their kid's comfort and age while choosing a dress. Not only kids like getting party-ready, but parents too enjoy dressing them up for the special event.
Whether there's a party at home or you are invited to a friend's reception, you want your kid to look their best. If you are looking for party dress ideas for your baby girl, toddler, or big girl, we have some beautiful girls party dresses ideas for you.
Based on the party's theme and the event - wedding, anniversary, birthday, tea-party, or maybe a family gathering, you should choose something that looks good on your child and suits the theme. Without further ado, let us check out some beautiful party dresses for girls.
Pretty and Comfortable Girls Party Dresses
Party dresses are supposed to be pretty and comfortable. They can be traditionally adorned with lacework or designed to look trendy with glitz and shine. Either way, a party dress should be ideal and age-appropriate to bring out the child's natural beauty. The below dresses are suitable for all kinds of party wear.
Embroidered Beaded Party Dress
Elegant embroidered beaded dresses always look fabulous. Elaborate embroidery on the bodice with a beaded tulle skirt will make your little girl look like a princess for real. Let her shine and turn heads while she moves in this embroidered variant. This girls party dress comes with a fluffy effect, perfect for parties. Choose one that is knee-length and sleeveless. Even full sleeves look stunning. You may pick one with a sash to tie backward. There are V-neck dresses in this variant, and some also come with intricate, delicate lacework around the neckline.
The halter neck also looks beautiful. You can imagine the effect it will create – simply stunning! It is available in beautiful colors such as mint, aqua, rose, ivory, pink, mauve, red, and other colors.
Rhinestone Beaded Tulle Dress for Parties
Sparkle and shimmer, that's what parties are for, and a rhinestone beaded tulle dress justifies that completely. Explore a wide variety of dazzling rhinestone adorned dresses that are not just pure beauty but comfortable too. The bodice is adorned with complicated rhinestone patterns and pearls for a striking effect. This kind of dress brings a high-end look to the entire attire.
The skirt is pleated from the waistline and has a net-like cover over the pretty tulle fabric. Amazingly curled-up wire hemline and appealing colors are a unique combination of a stunning party dress and worn by toddlers and little girls.
Tea-Length Tulle & Lace Sleeveless Dress
Are you looking for a fairy-like dress for your little one? Well, tulle and lace blended sleeveless dress can be the one. Beautifully decorated with elegant tightly fitted lace on the bodice, with an illusionary scoop neck adorned with lace applique, the tea-length tulle dress is all party-ready. You can imagine how stunning your darling will look with this beautiful party dress for girls.
The lacework extends beyond the waistline, making a specific pattern and from there in the tulle skirt appears. The hem has an uneven shape, almost ruffle to bring in the messy yet elegant look, which is very popular and trendy. Pastels look great in these designs, and you can pick colors such as coral, mint, light blue, dusty rose, pearl pink, taupe, and prettier colors.
Long Sleeve Shift Party Dress
Shift dresses are stunning and look fabulous in all age groups. More suitable for a casual party look if the party theme is set casual. This kind of dress gives a comfortable look and feel. Your child will feel relaxed in this outfit and is best for any day party. You may choose a darker shade for the evening party look as well. Explore a huge selection of long sleeve shifts dresses available in lace.
Lace is a fabric you simply cannot resist when it comes to parties. With thick floral patterns of lace overall, scooped neck, and long sleeves, the dress you get is impressive. You'll find these dresses with soft lining underneath the dress, making them look more sophisticated and elegant. You may also choose to go with a quarter sleeve.
Floral Party Dress for Little Girls
Classic floral dresses are almost essential for any little girl's wardrobe for party wear. Floral dresses look bright and all positive, bringing in the best party vibe. A jacquard floral party dress is one best pieces to wear at an evening party. The prettiness of floral and the adornment of jacquard bring the best out when it comes to a gorgeous party dress.
Knee-length with cap sleeves and plain or layered bodice with a jacquard skirt look great. A sash on the waist to be tied backward brings an elegant overall look. You may choose a matching scrunchie for the headpiece as well.
Another modification for a floral is a floor-length chiffon dress. Bright colors look lovely for summer parties. Spaghetti straps with cross belts at the back and an A-line feature give the dress a fresh look. You can choose to go with single floral prints, say roses, or multi-floral patterns. Available in yellow, orange, pink, red, white, rose, and multicolor.
Floor-Length Ball Gown Dress for Party
Ball gowns have always been the traditional favorite for any party goer. And when you want your little sunshine to shine at the party, ball gowns are the best choice. Find exquisite designs of fuller gowns with ruffled edges and a shimmering bodice, making the best party dresses for little girls. There are huge selections of ball gowns that come both in sleeveless and full sleeves. You'll find variants that have a sequined or beaded top with a decorated neckline and a zipper back. Some also come with flocked or smocked top layered with shimmering fabrics and adorned with pearls or beads. The gown has a lining underneath to give it a fuller effect.
If satin impresses you, there are some pretty selection of satin floor-length dress. Satin long dresses look stunning with A-line features. Soft gloss and pretty colors of satin with cap sleeves and scalloped neck are so amazing to watch. You can find them in adorable colors of pink, fuchsia, red, aqua, blue, burgundy, green, lavender, and other lovely colors—a great pick for evening parties and weddings.
Cute Party Dresses for Baby Girls
Your baby girl dress ought to be pretty, just like her. While you want your baby girl dress to be stunning and stand out from the rest, it is essential that they are comfortable.
Satin Rhinestone Tulle Party Dress
A bit of embellishment and a bit of trendy is what makes perfect party dresses for baby girls. A satin blouse with a soft and tulle skirt dress and trimmed hem make it gorgeous. These dresses come with rhinestone embellishment on the waistline and the neck. You may choose one with pearl detailing or rhinestone detailing – both look stunning.
The sleeveless and knee-length feature makes it stand out and look pretty on your baby girl. To go with the look, team it up with a matching bow accent for the headpiece. It is available in aqua, mint, blush, candy pink, dusty rose, ivory, and other exciting colors. To complete the look, pair it with embellished bellies.
Short Ball Gown Sleeveless Dress
Short dresses look cute on baby girls. Trendy ball gown styles short dress with the flare and the fluff and simple bow accents make it ideal for a baby girl party dress. Scoop neck and sleeveless, and the length is above the knee, keeping it trimmed and cute. Satin short dresses look stunning. You may also choose one that has lace adornment.
Choose one with a large bow at the waistline and another or the back tied as a sash—pleated effect to bring more elegance to the dress. A bow soft elastic headband will complete the look.
Baby Girl Organza Embellished Ruffled Dress
Designed for special occasions such as parties, this variant of organza embellished ruffled dress is unique and cute. Sleeveless and well-fitted bodice with the embellished waistline and a ruffled skirt looks fabulous. This kind of dress comes with a crinoline underneath the skirt for fluffy features and elegance. You may choose to pick one that has a bow accent on the waist along with the embellishment.
Some dresses also come with a net covering over the ruffled skirt to add more glam. If the weather is a bit cold, you can choose to team it up with a bolero. Knee-length baby girl party dresses come in pretty colors of lime, yellow, blue, navy, red, and other lovely hues.
Pearl Adorned Layered Dress
Should you want to keep things more decorated, the pearl adorned variants are something you should pick. Explore a huge selection of cute sleeveless dresses with pearl adornment at the waist. The dress looks deserving with a satin bodice and an organza skirt with a tiered or layered effect. You may find dresses with about three layers or more, and they really look pretty.
Each hemline layer is sewn with satin and pleats just below the waistline and a zip at the back. You can team the look with a matching bow or headband. Cute bellies or squeaky shoes will look great. Find them in pretty colors such as coral, rose, mint, red, ivory, and others.
Beautiful Toddler Girl Party Dresses
Getting a toddler girl dressed up for the party isn't easy after all. Besides finding a dress that is ideal for the event, it is also necessary that your toddler girl likes it. Occasions are not rare when parents pick a dress they find is ideal for the event, and then their kid refuses it straight. But our collection of pretty toddler girl party dresses are sure to win your and your girl's hearts.
Floral Applique Flare Dress
Floral is one of the pleasant representations of party wear, and girls love them. Think of applique flowers allover a dress, a gorgeous thing to sport at a party. Go with a knee-length or a tea-length with lighter shades such as ivory, cream, candy pink, or pale yellow. These dresses come with a flared skirt with soft layers and a net covering.
You can go with a sleeveless or quarter sleeve feature. You may also find this variant of the dress with a shoulder-length sleeve with a scoop neck and a zippered back—a beautiful pick for a day party or a tea party.
Toddler Girl Glittery Tulle Rhinestone Dress
This kind of dress is perfect for an evening party or a reception. While you may want to add some shimmer and shine and some comfort to the dress, this is one you might want to pick. A glittery tulle dress with an embellished and rhinestone brooch on the waist makes it more elegant and perfect wear for the evening party.
These dresses come in pretty bodice work, some with smocked feature while others come in layered – both variant in glitters. You can choose to go with a sleeveless or cap sleeve length. Why not team it up with a similar bow for the headpiece or a glittery headband? Complete the look with glittery pair of comfortable bellies.
Floral Accent Overlaid Satin and Tulle Dress
If less is more is your motto, and you want to add elegance with grace, these floral accent types are your pick for the evening. Dress your little princess in a beautiful satin bodice and tulle skirt dress. A 3D magnificent flower with satin ribbons to adorn it on the waistline. The waist area's pleats are minimal to give it a vintage look: scoop neck and a sleeveless. Cap sleeves also look great in this design. Pick one that has a satin sash to tie at the back to complete the look. Pair it up with a similar bow for the head. It is available in pretty colors of candy pink, light pink, dusty rose, lavender, red, aqua, and others.
Rosette Textured Glam Dress for Toddler
Suitable for a birthday party or anniversary party, this rosette textured dress has a flair of vintage with a modern touch. Textures are timeless, and you only need to blend them into your style. With a cap sleeve or shoulder-length sleeve, the rosette textured floral dress is a beauty to wear. It's enchanting to the thought that the rosette is overall the dress and has an illusionary effect.
Since the dress is heavily adorned already, you can choose to go without a sash for the waist, or if you still want to add it, pick one with the detachable sash or belt but be mindful to choose one with a thin sash or belt that ties at the back. A zippered back and knee-length is what makes it more appealing and the best toddler girls party dress.
If the weather is cold enough, you can team it up with a faux fur bolero of a matching color or a shade darker.
Velvet Glittery Tulle Dress
Velvets are back in trend and now with more style! Upgrade your little fairy's wardrobe with a velvet glittery dress with a tulle embellished skirt. Choose from an amazing selection of velvety bodice with a tulle skirt adorned with glitter or patterns made from pearl or rhinestone. These dresses contrast two colors, say a darker shade of velvety bodice with a lighter shade skirt. With a high waist feature, the waistline is adorned with a satin sash and bow accents. You may pick one with a brooch.
Velvets can be tried in a couple of other stunning ways. A complete velvet dress is always a perfect party dresses for kid girls. Find one that has a long sleeve with lace decoration on the neck area. The neck may also have a satin bow placed just on the lacework. Darker shades always work better, say navy or black, for instance.
Another lacework with velvet looks pretty with an elbow-length sleeve and some lacework on the sleeves. A high collar with lace adornment is a whole new thing to explore—zippered back and a velvety belt tied at the back – such a beauty to wear. The hemline might also have some lacework. Knee-length is the perfect thing for the sport. Team it up with black or white tights for winters.
The design looks perfect in the dark green, navy, black, burgundy, red, purple, maroon, brown, and other darker shades.
Dresses for Little Girls
Worried about what to dress your little one to the party? Check out these fabulous little girls party dresses that are cute and will suit your little darling's fashion taste.
Sequined A-line Mesh Dress
A contemporary design with a fresh approach to party dress, the mesh sleeveless sequined dress is one for your little girl. Stylish A-line feature with sequined details all over, these dresses are lightweight and soft to the body. The sparkling sequin work makes it dazzle and prepare it for any evening party. Scoop neck or V-neck looks pretty, and you may also choose a satin sash to be tied at the back of the dress. Black, shiny flats go perfectly with it. Find them in stunning black, burgundy, navy, grey, and other darker shades.
Asymmetrical Appliqued Dress for Little Girls
Kids like shiny and bright things, and so is the theme for most parties. If you want to keep it sophisticated with some shimmer and shine, an asymmetrical appliqued dress must make up to your list of party dresses. The soft fabric of either tulle or chiffon is designed with uneven hemline and appliqued bodice.
Choose one with complicated patterns, or that has decorations of pearl and sequins. These variants usually come sleeveless, but you may choose to go with a cap sleeve and a brooch on the waist for more sparkle. Knee-length or tea-length both look good.
A-line Spaghetti Sleeveless Long Flower Dress
Spaghetti straps are perfect for summer parties, and flowers add elegance to them. Make her look graceful and all ready for the party mood with a long A-line flower dress. 3D flowers such as roses adorned on the bodice, and the dress hemline with organza fabric covered with sheer net makes these lovely party dresses. The flowers are overall on the hemline at the front and the back. Zippered back with a broad satin sash to tie at the back. The satin straps make it look trendy.
This variant of the dress is also available with one short sleeve and the other spaghetti strap. While in this style, you may explore the flowers all over the clothing. Knee-length looks excellent in this variant or above the knee, making it perfect for a party dress for baby girls too. Choose from beautiful colors such as red, fuchsia, pink, burgundy, coral, navy, aqua, and other colors.
Organza Ruffled Asymmetrical Party Dress for Little Girls
Let your little girl steal the show with a pretty asymmetrical ruffled dress. Dress up your fashionista with a fabulous organza dress with delicate ruffles gracefully decorating the ball gown skirt. These dresses have beautifully worked lace adornment on the waist area and pearl work on the neckline.
You may choose rhinestone decoration as well. Appliqued flower patterns on the bodice and sleeveless features make it a stunning little girl party dress. There is lace back up for a perfect fit and gorgeous look. Available in beautiful colors such as white, ivory, candy pink, and other lighter shades.
Tea Party Dresses for Little Girls
Every little girl likes to attend or host a tea party—a perfect occasion to dress up your little girl in her favorite dress and have beautiful memories captured. Whether your daughter is attending a tea party or a teddy bear party in your garden, this selection of classic yet trendy dresses is the best pick.
Pink and Ivory Flare Dress
The upper body or the bodice of these dresses remain fit to the body while the lower or below the waist flares out to a fuller form. Explore a huge selection of fit and flare dresses with soft cotton fabric or chiffon that also look pretty. Sleeveless and knee-length, find one that has a few pleats on the waist and a zippered back. Pretty colors such as a combo of pink and ivory with floral patterns or prints will look lovely. You can go with any soft hues that would bring the spring and summer flavors.
Frilled Chiffon Turtle Neckline Dress
Try a vintage look for your little one's tea party. A frilled chiffon dress makes one of the best little girl tea party dresses. Soft floral prints with a frilled turtle neck collar or a high-neck collar with frilled short sleeves make an ideal dress for your daughter to attend her tea party. Frilly trims, A-line cut, and lovely ruffles make the dress look extraordinarily stunning.
Look for a darker or a brighter shade like navy, red, orange, burgundy, pink, or yellow. This variant of the dress looks fancy and is traditional at the same time.
Lace Long Sleeve Tulle Flower Dress
Delicate lace 3D flowers all over the top with sleeved and tulle fluffy skirt with wired hem is a new breed of style and elegance. Scoop neck or boat neck dress with zippered back and crinoline lining underneath the dress gives a fluffier look. The tulle skirt has several layers to make it more princessy like. You may choose the dress to be knee-length or floor-length based on the theme or mood of the tea party. If you want to keep it casual, trendy knee-length is preferred and for a more traditional look, sport it with floor-length.
Dusty rose is one color you might love to go with. Besides, other pretty colors include such as candy are pink, coral, red, or aqua. These can also be ideal for tween girl party dresses. If you are a tween girl's parent, you can either dress them in the same shade or choose the shades according to their choice while keeping the same style and designs.
Big Girls Party Dresses
If your child is a big girl, you might have a tough time finding an ideal party dress for her. While considering her clothing choice, you must also find an attire that is comfortable for her and to which you both agree. Check out these party dress ideas for big girls.
Glamorous Long Tulle Party Gown
If you want your daughter to sport a bit of a traditional and trendy look, a long tulle party gown can be the thing. A lace and tulle long gown, A-line features, and a soft, breathable cotton lining underneath the dress make it a comfortable and pretty dress to sport. For the bodice, soft layers of tulle have been adorned with a V-neckline and strapped sleeve. A pretty satin sash belt tied at the back makes it look pretty. The hemline is trimmed. Imagine the dress, not less of a fairy tale! Choose from colors such as black, pink, burgundy, red, aqua, blue, purple, green, candy pink, and similar pretty shades.
One Shoulder Dress for Big Girl Party Dress
A tea-length twin-layered one-shoulder dress is one of the ideal big girl party dresses. Designed with soft fabric such as silk or cotton blend, they look lovely for daytime parties and stunning for an evening when chosen a darker shade. The skirt looks beautiful, with two layers of pleated skirt flowing straight below the waistline with a satin sash belt to tie at the back.
The ruffled hemline brings in a sweet blend of trend and sophistication. The dress has a one-shoulder that makes it look stunning. You may find one that has 3D flowers at one strap. Pick a matching headband to go with the dress.
You can either choose it for a tea-length, floor-length, or knee-length – all of it will look fabulous.
Rose Applique Front Descend Party Dress for Big Girls
Appliques are pretty, and when you have roses for them, they are straight gorgeous. Scoop neck rose appliques on the waistline and shifting to the hemline on both sides at the front is a unique idea for a party dress. Choose from a selection of dresses that descends along the front and is the length of the knee while the backside of the skirt reaches the calf: beautiful keyhole and zippered back. Choose pretty colors such as pink, candy, pink, rose, mauve, coral, etc.
Whether you are looking for party dresses for baby girls or big girls, the comfort, fabric, style, and your child's preference have to be considered. After all, it's all about her happiness and comfort. Along with the dress, a perfect pair of shoes completes the look.